"The most powerful relationship you will ever have is the relationship with yourself." – Steve Maraboli
We live in a constant race. We are professionally active and we engage in various projects. We don't have much time for ourselves in our everyday race. And yet health and well-being are the key to success and an indispensable factor for us to be effective and happy.
Sometimes we are so absorbed in things that we forget to take care of the only person who will be with us forever: ourselves. Do we sometimes think about how to take care of ourselves, or do we completely neglect this area of life?
Self Care Quotes Images
We love to read positive self-care quotes. We let them reach us because sometimes they add energy, like an extra cube of chocolate after dinner. We have collected and created beautrifuly famous quotes on self-care for you. Each of them is very different.
Nonetheless, you can all print them and hang them on the wall. When you start over, you need someone to tell you that it is good to take care of yourself.
Each of us needs such an assurance. These sentences won't look after you but they will inspire you to do so.
Best Self Care Quotes
I have come to believe that caring for myself is not self indulgent. Caring for myself is an act of survival.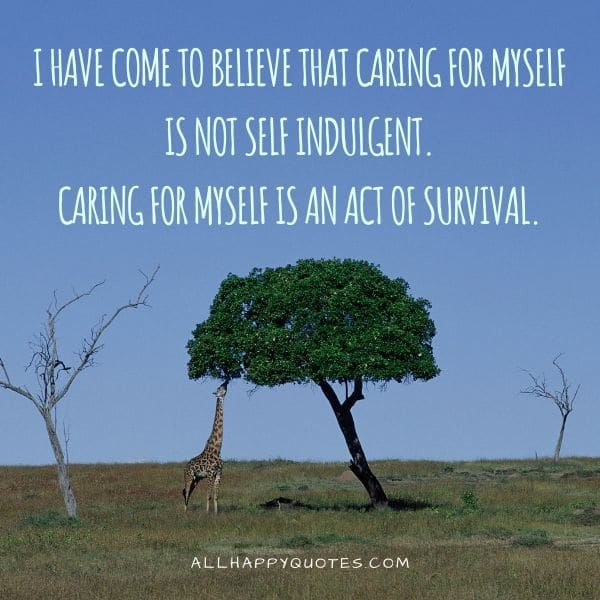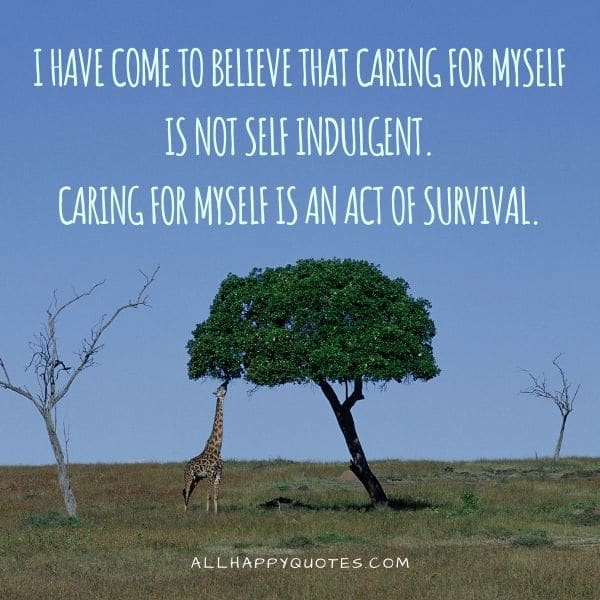 Self-care has become a new priority – the revelation that it's perfectly permissible to listen to your body and do what it needs.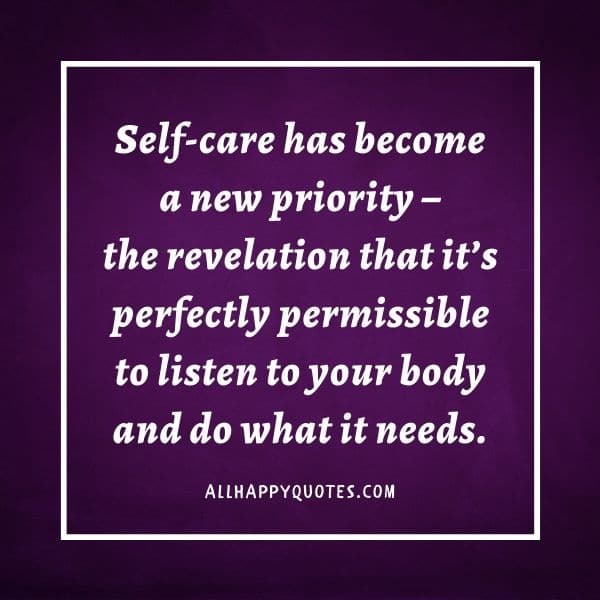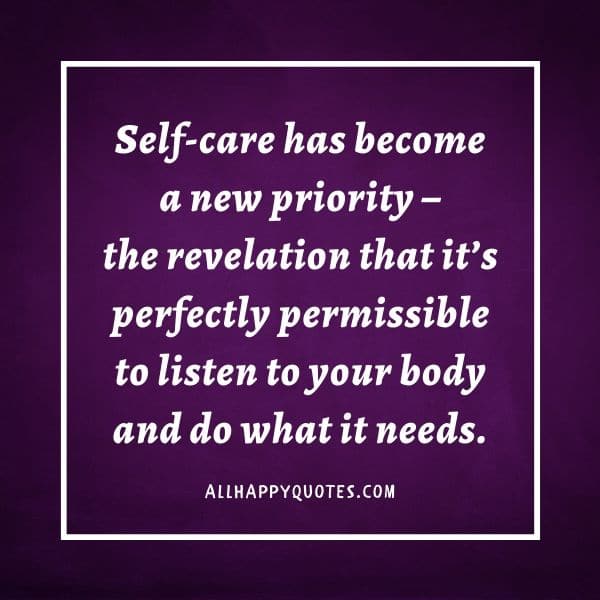 Honoring your own boundaries is the clearest message to others to honor them, too.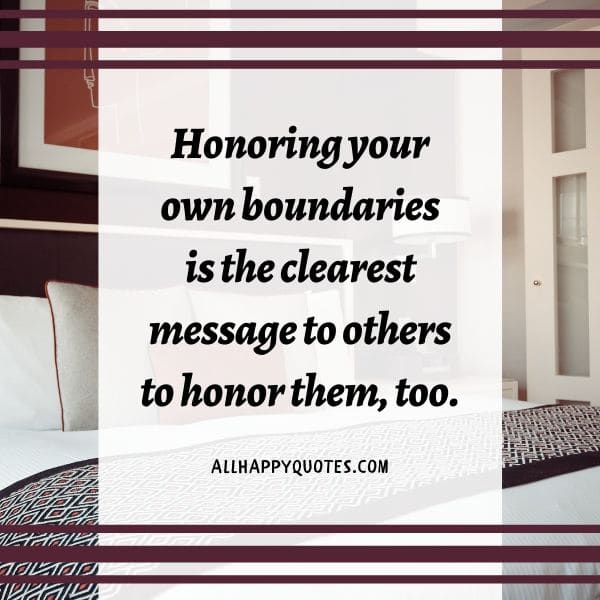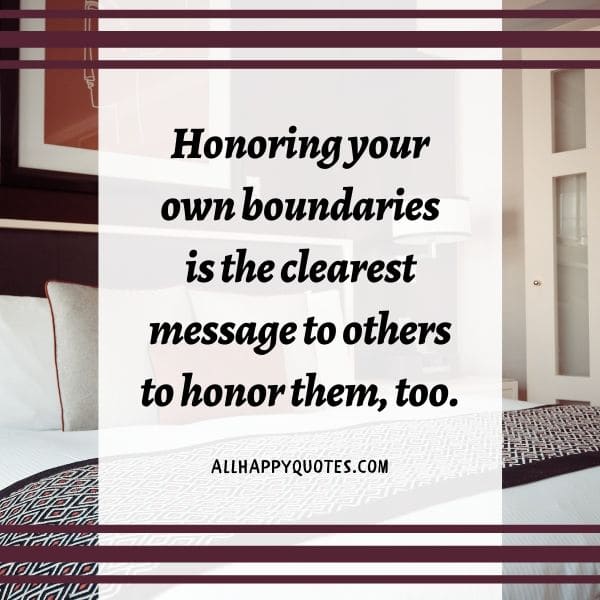 Learning to treat ourselves lovingly may at first feel like a dangerous experiment.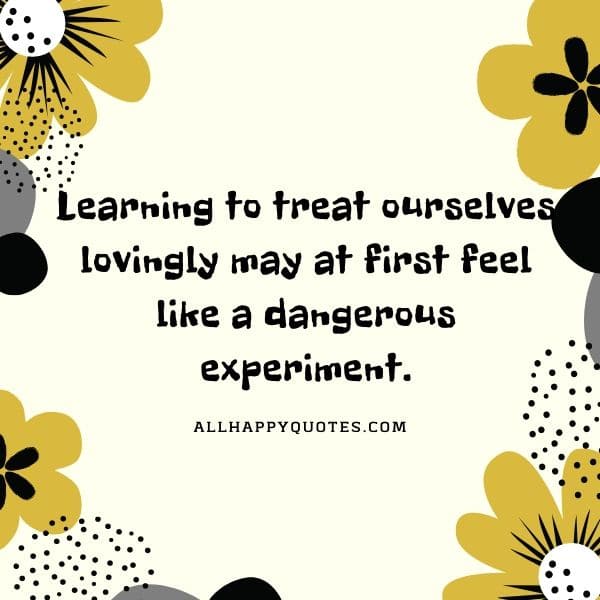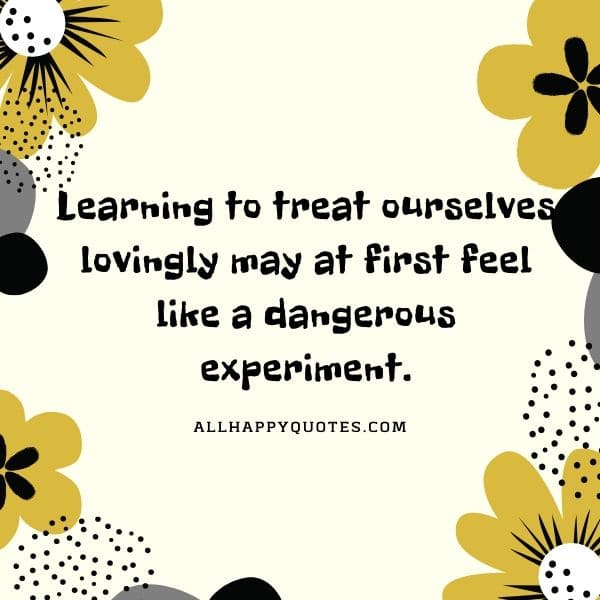 You can't take care of anyone else unless you first take care of yourself.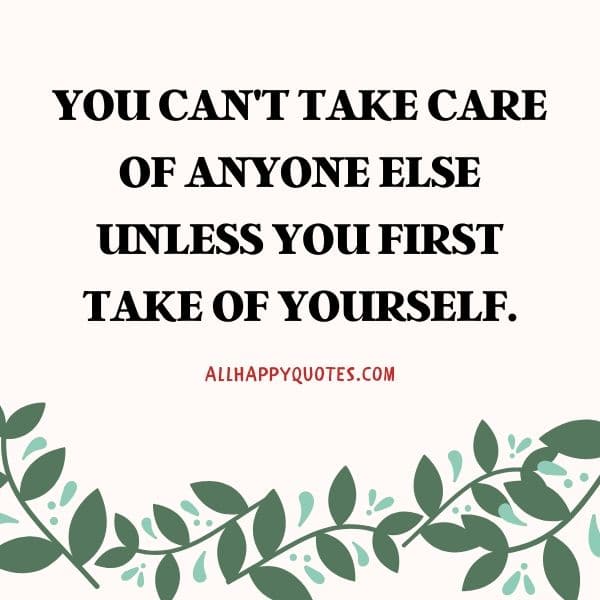 The thing that is really hard, and really amazing, is giving up on being perfect and beginning the work of becoming yourself.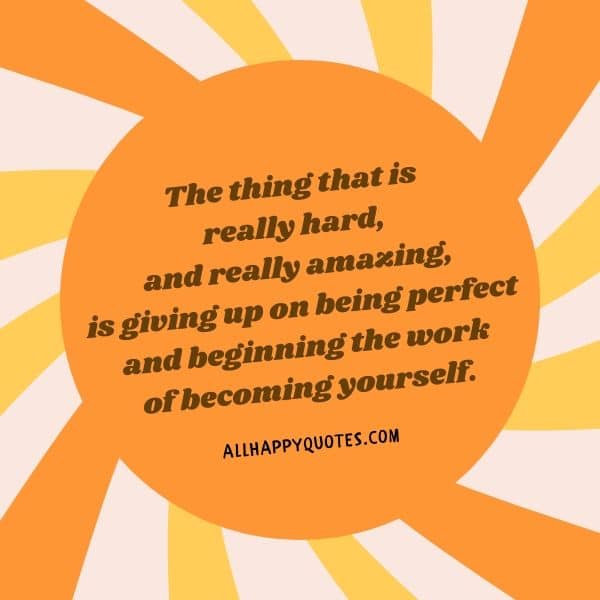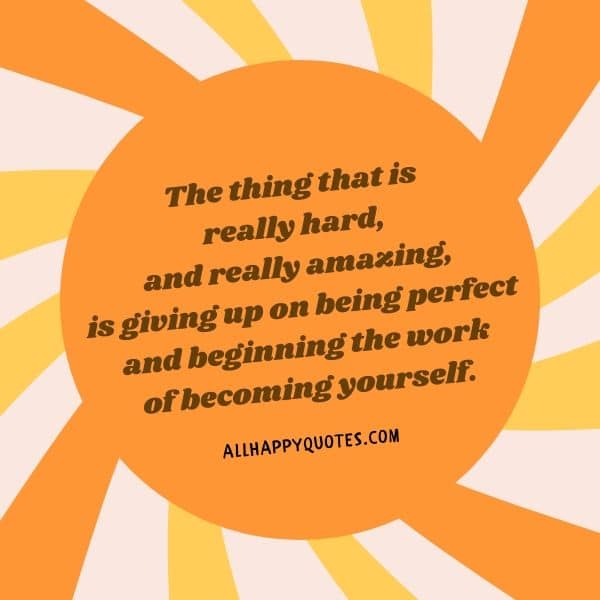 The only person who can pull me down is myself, and I'm not going to let myself pull me down anymore.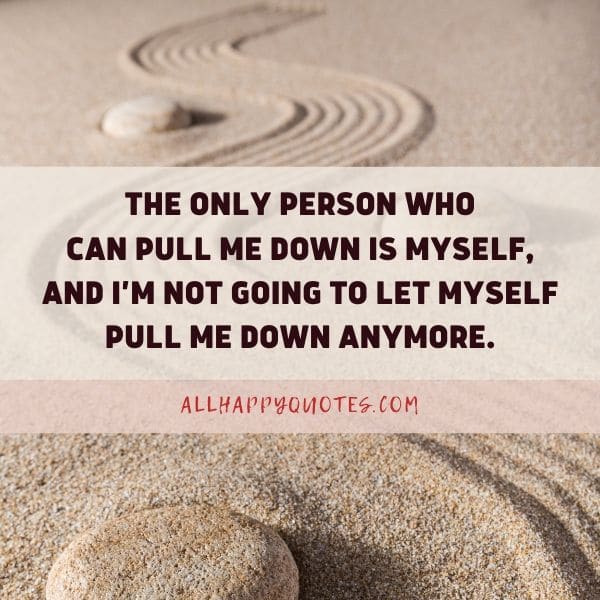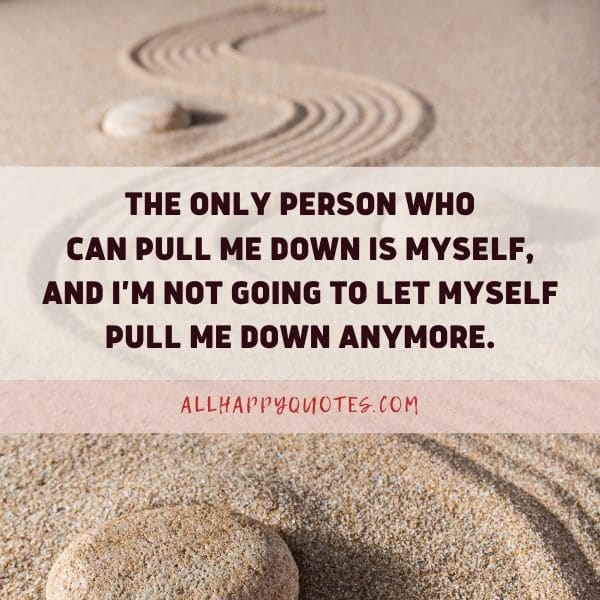 Self-care is never a selfish act—it is simply good stewardship of the only gift I have, the gift I was put on earth to offer to others.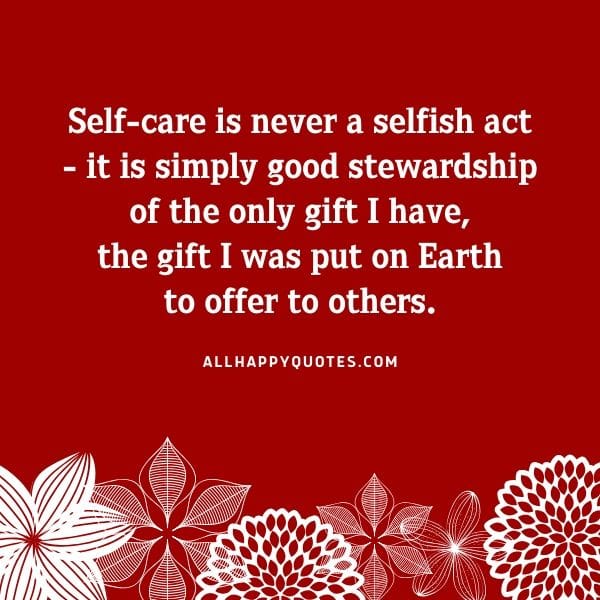 When we give ourselves compassion, we are opening our hearts in a way that can transform our lives.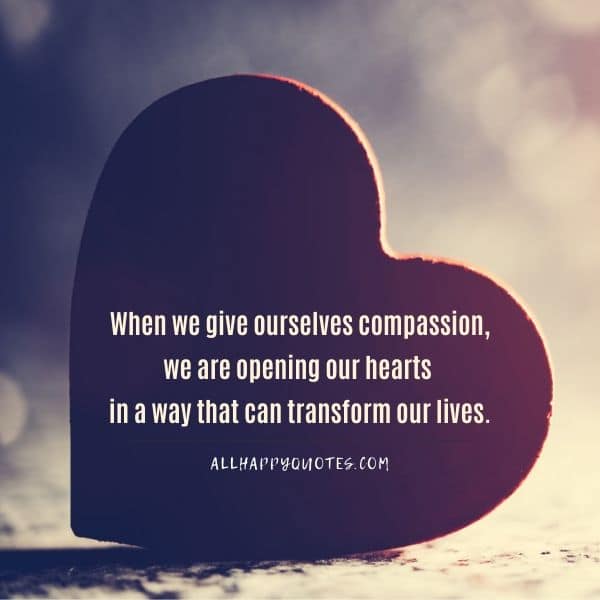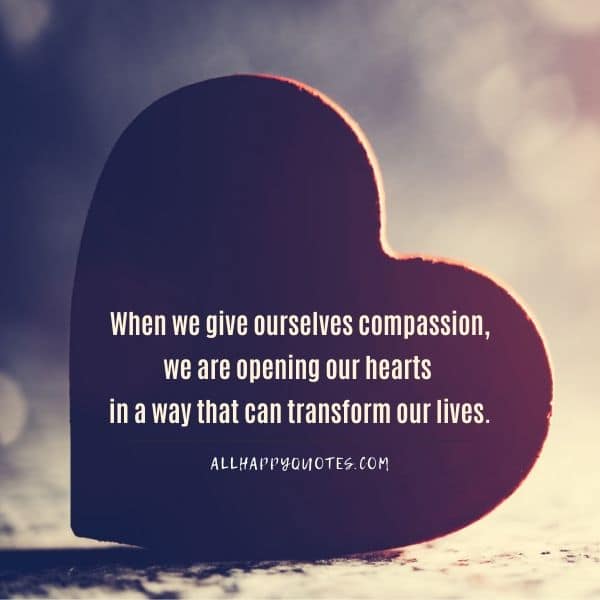 When you recover or discover something that nourishes your soul and brings joy, care enough about yourself to make room for it in your life.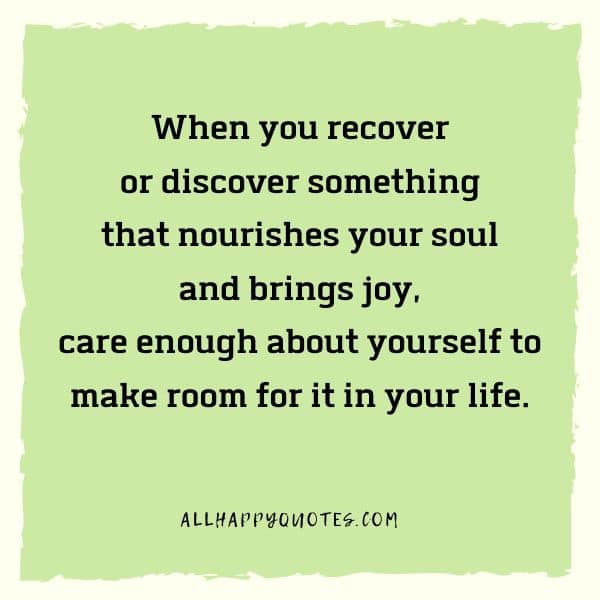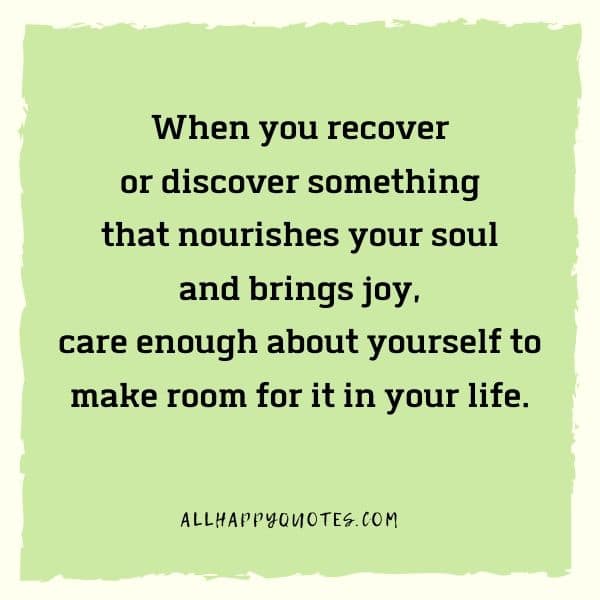 Self Care Quotes Funny
No more martyring myself.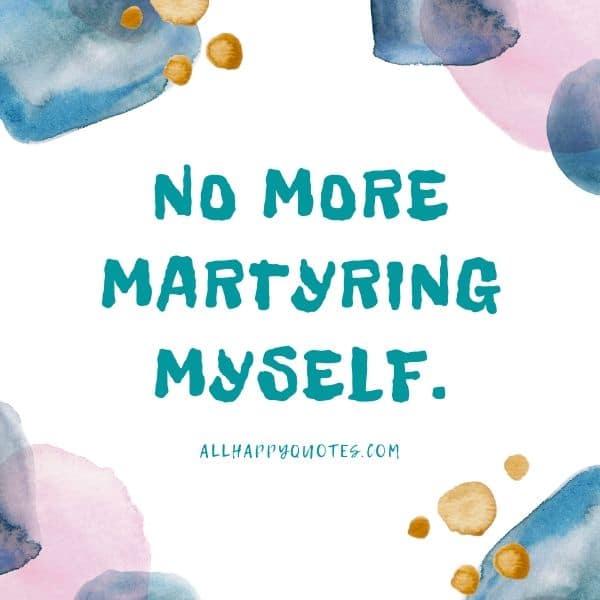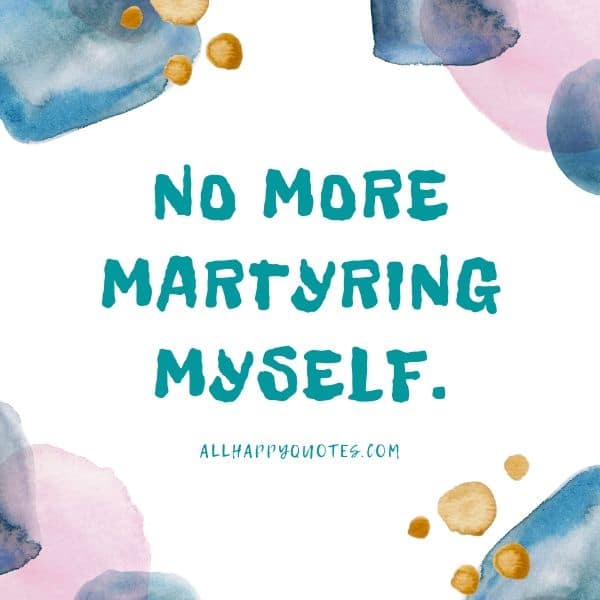 I'm my own experiment. I'm my own work of art.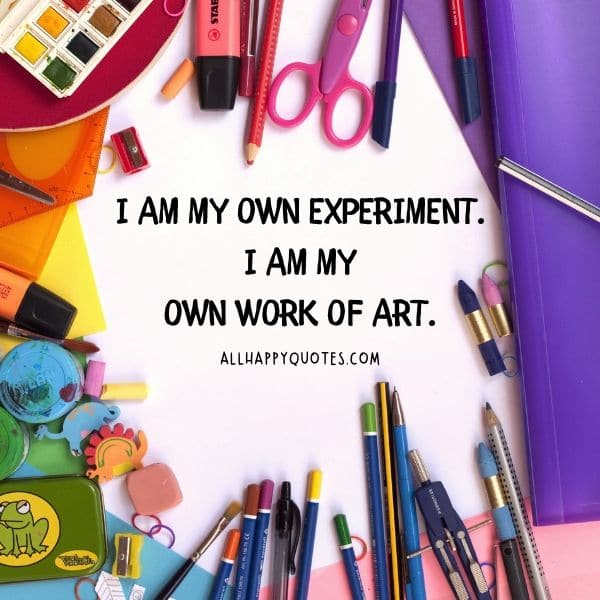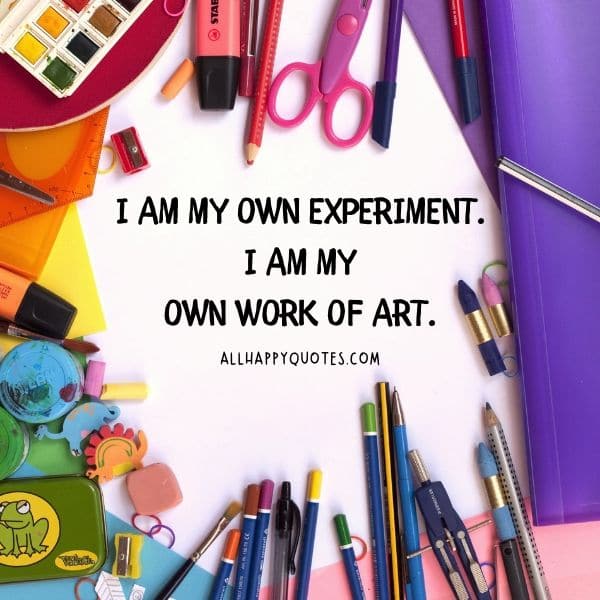 I love you but I got to love me more.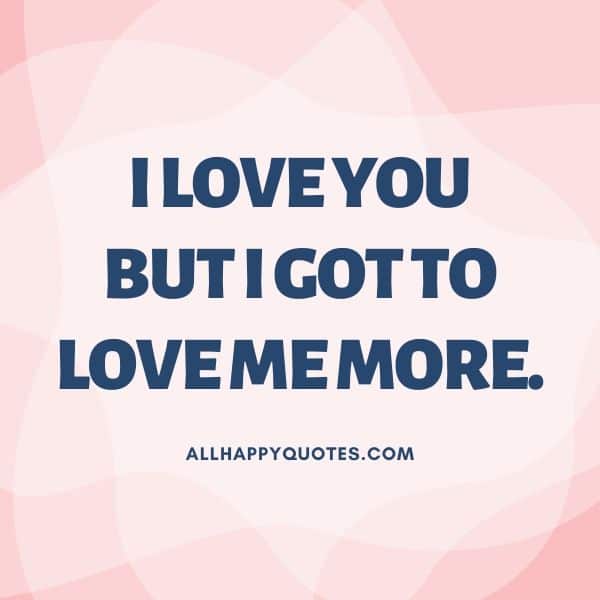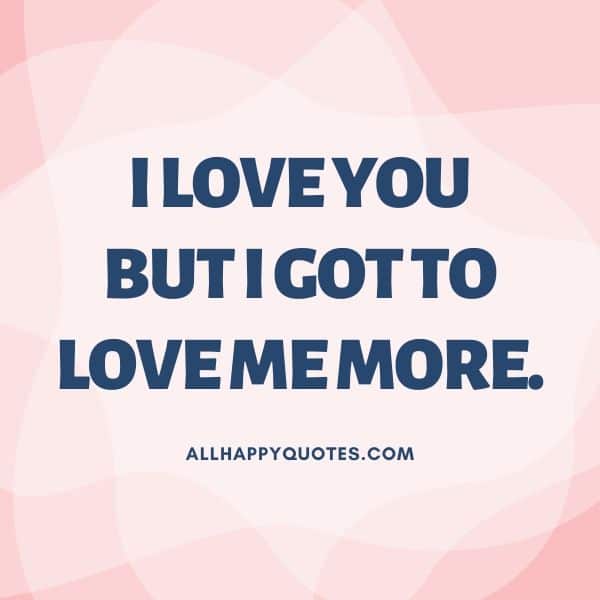 Taking care of myself doesn't mean 'me first.' It means 'me, too.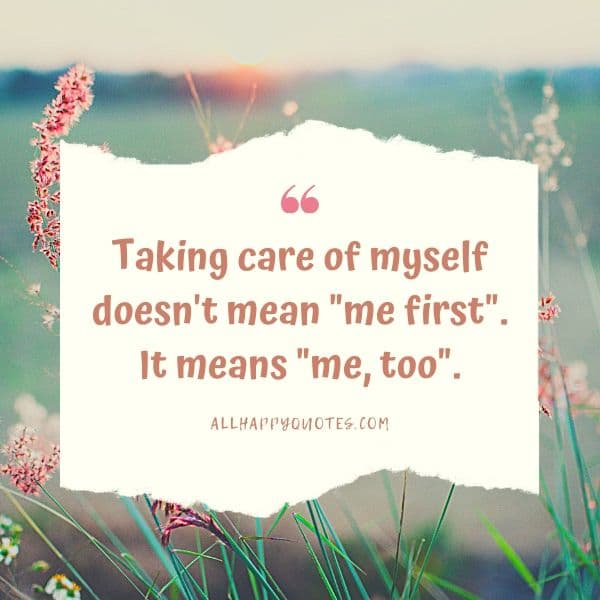 Don't let hollow heroes distract you from saving yourself.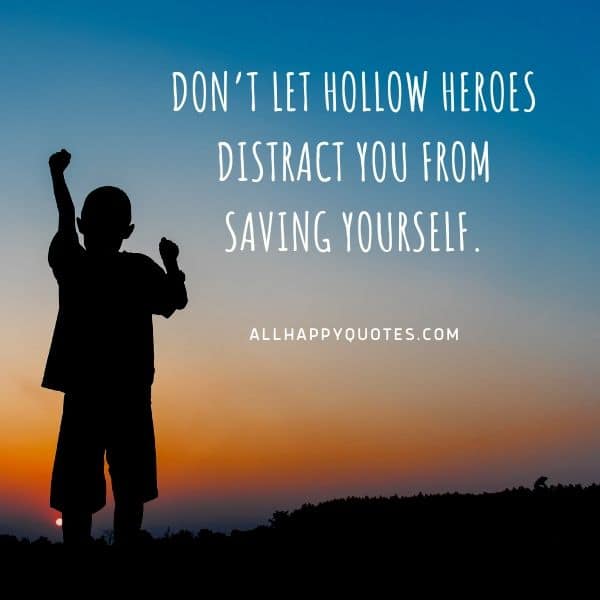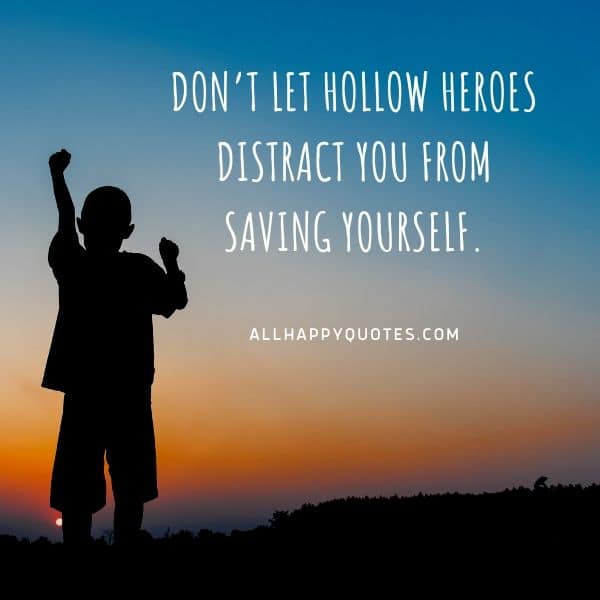 Your subconscious mind is paying attention to how you treat yourself.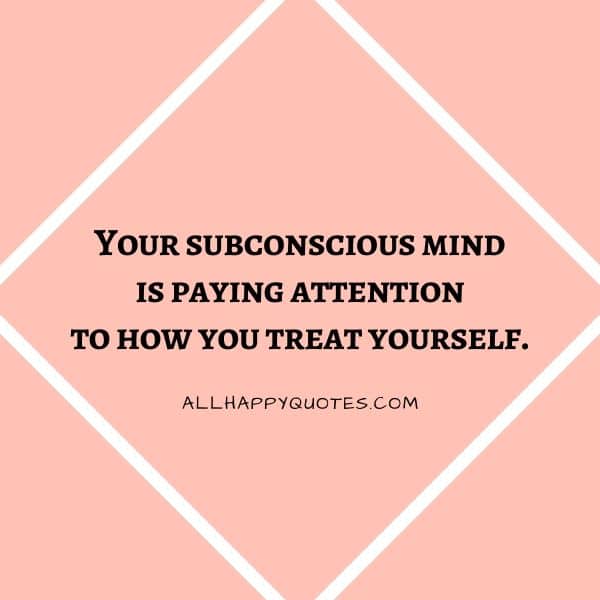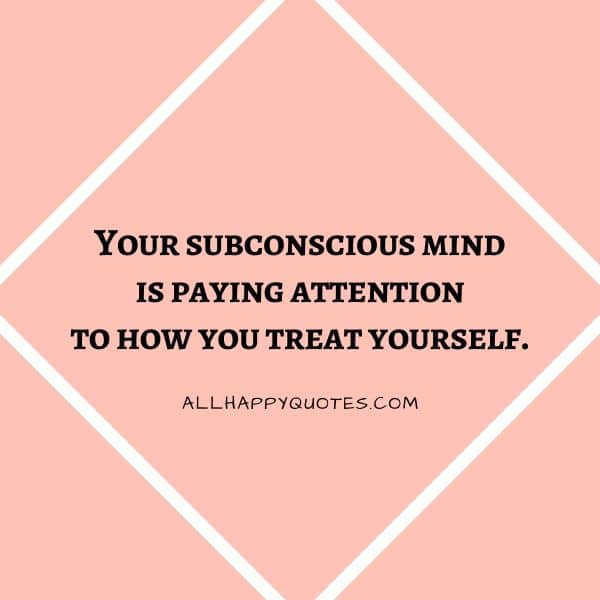 Doing something nice for myself is not selfish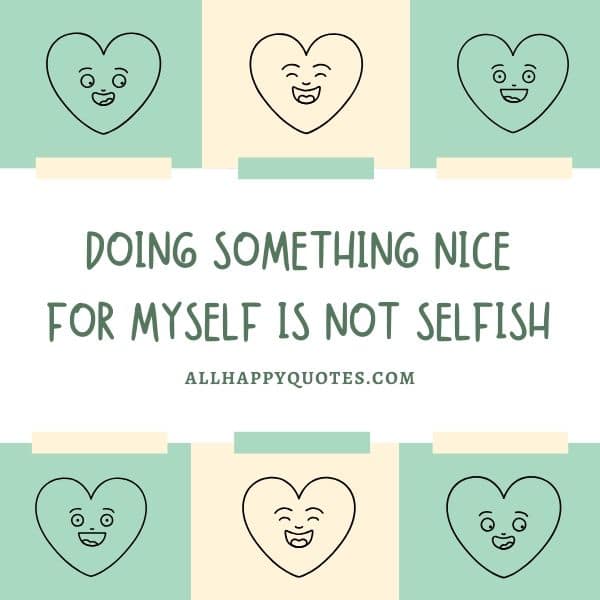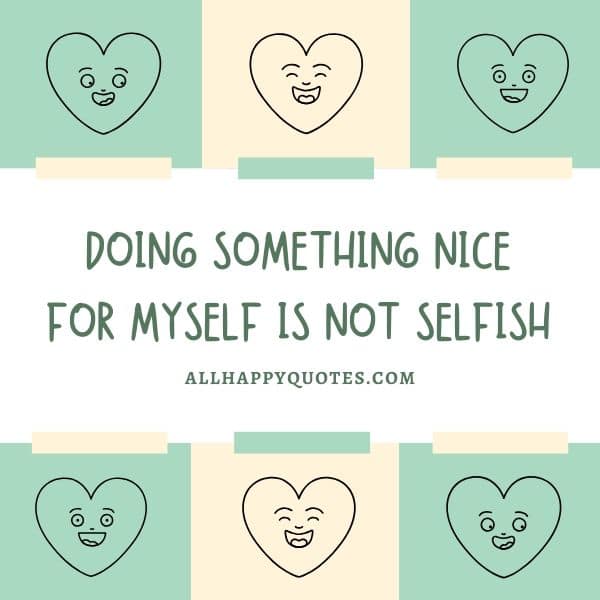 Be you, love you. All ways, always.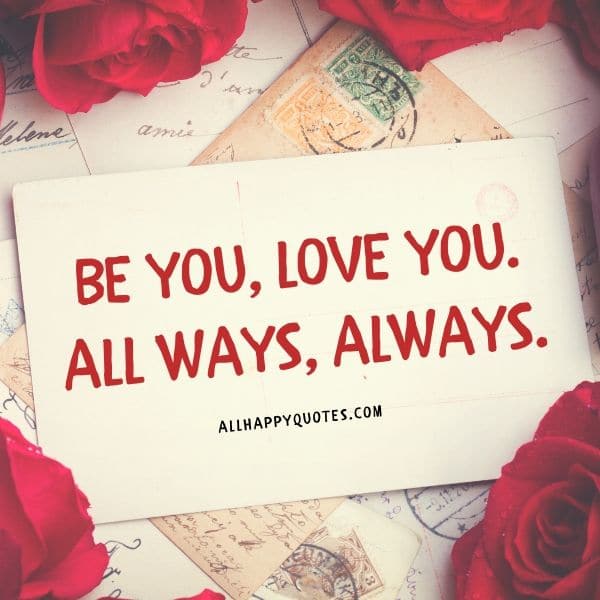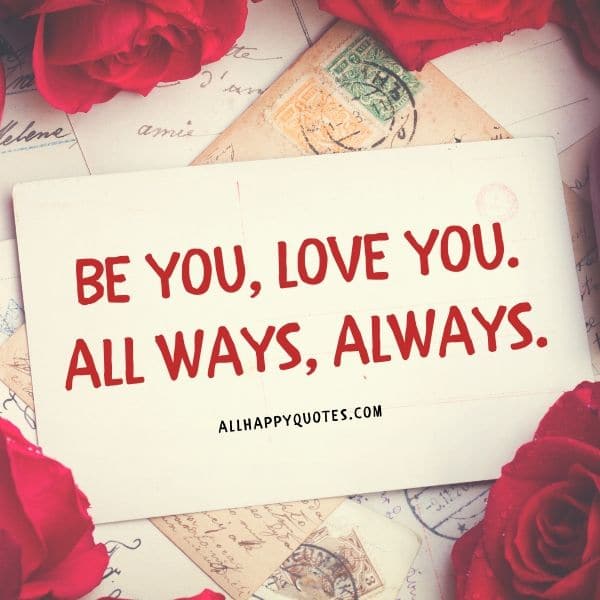 Self-care is how you take your power back.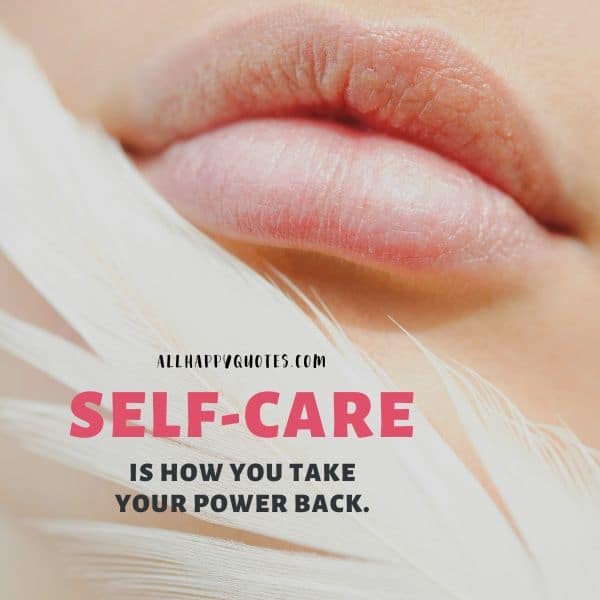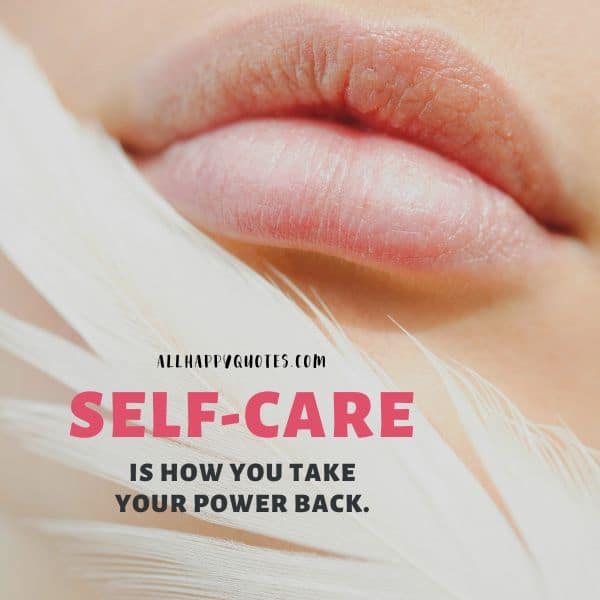 When the body forces you to STOP it's saying, hey buddy, you've gone too far.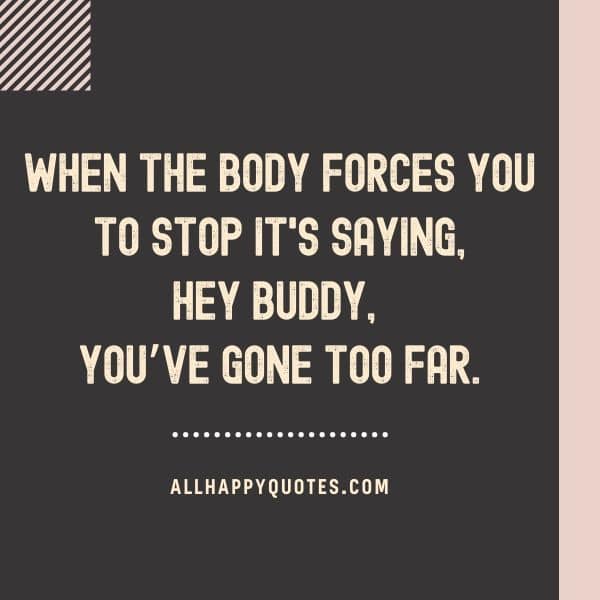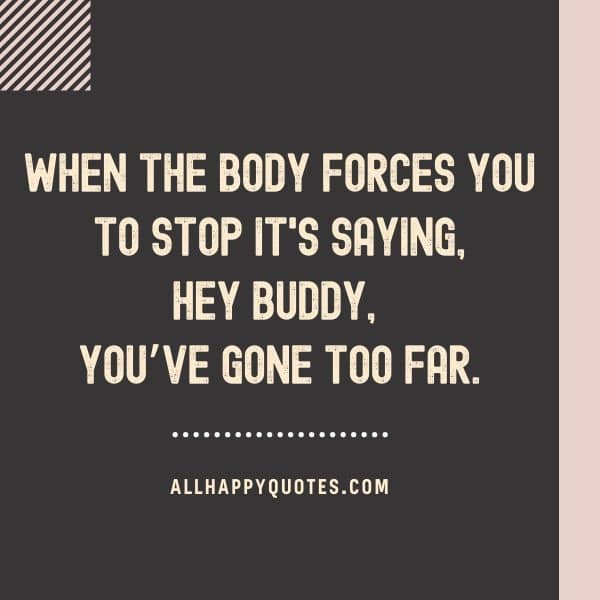 Self Care Inspirational Quotes
An empty lantern provides no light. Self-care is the fuel that allows your light to shine brightly.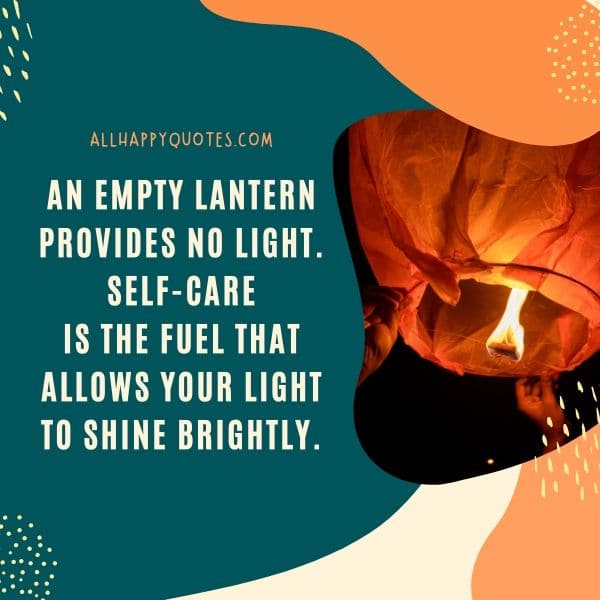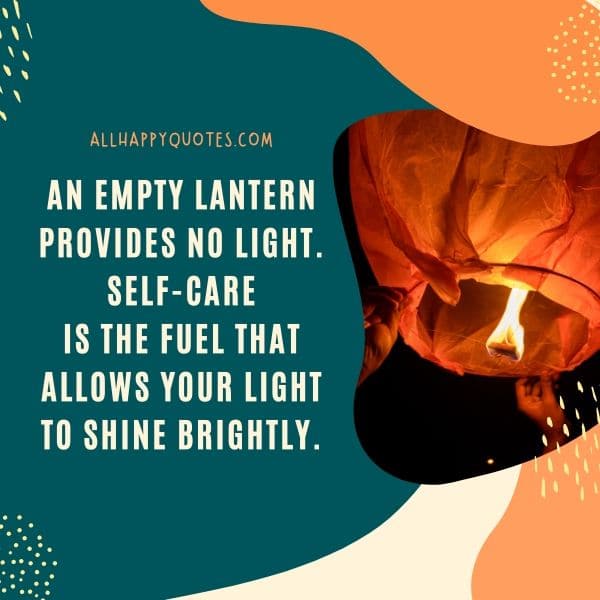 Carve out and claim the time to care for yourself and kindle your own fire.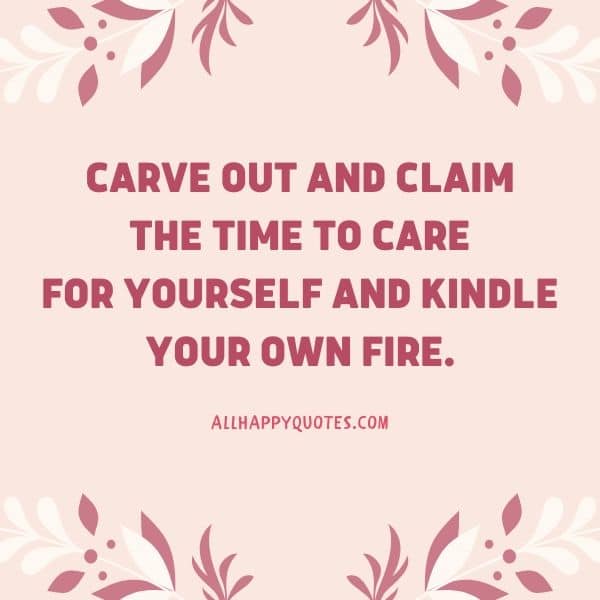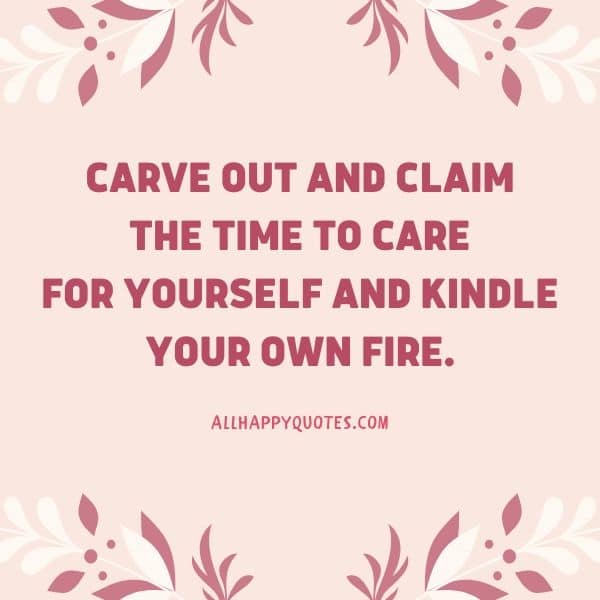 Guard the doors of your temple, do not let anyone pollute it with there mess.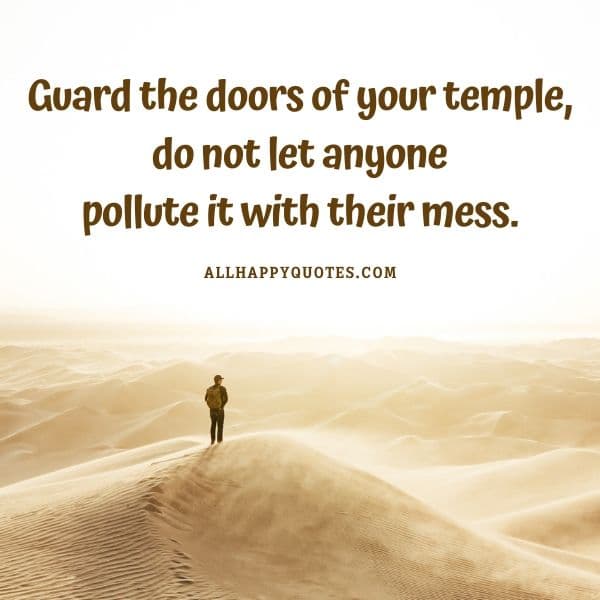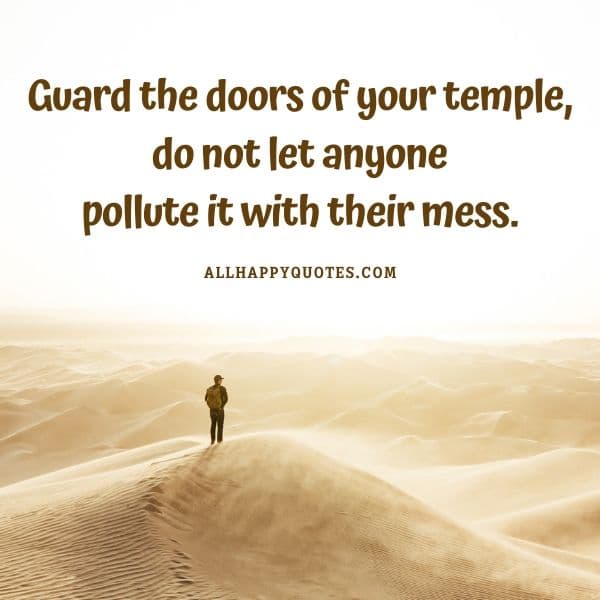 There is enough time for self-care. There is not enough time to make up for the life you'll miss by not filling yourself up.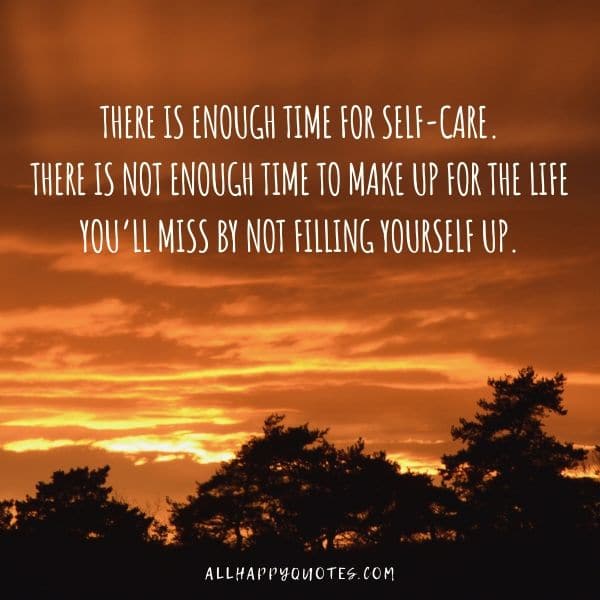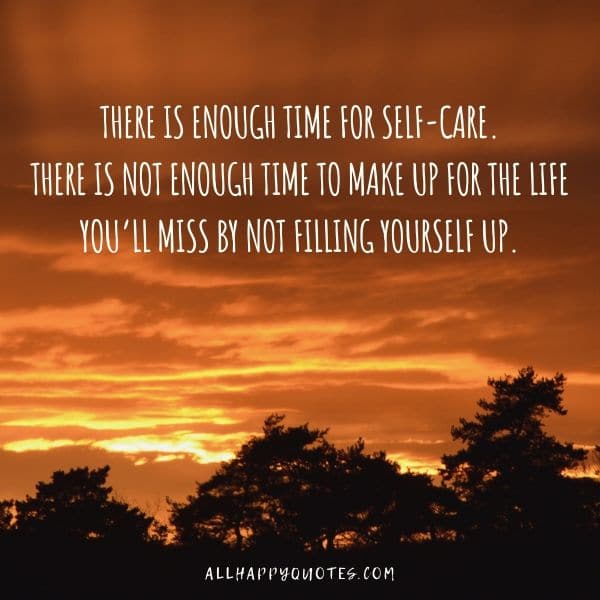 Find what makes your heart sing and create your own music.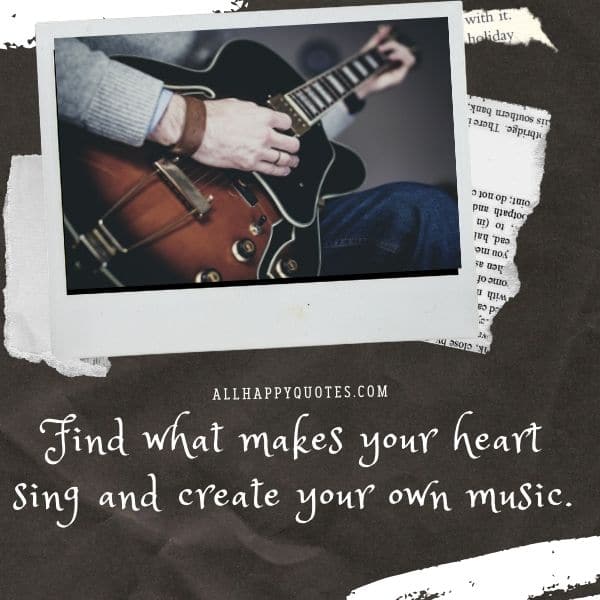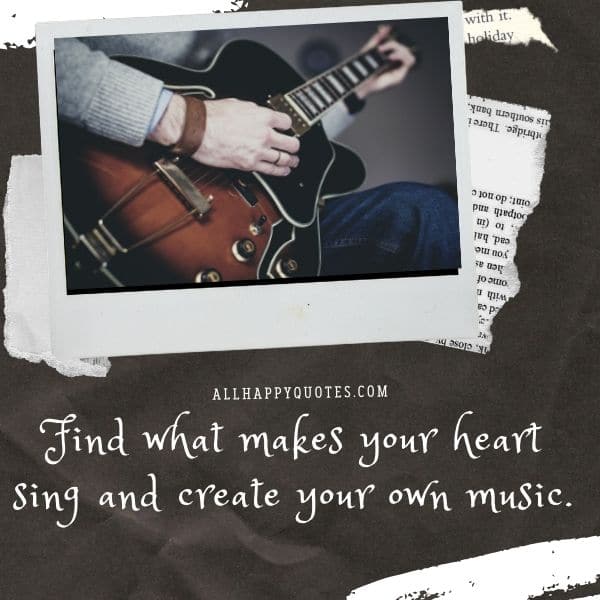 And now that you don't have to be perfect, you can be good.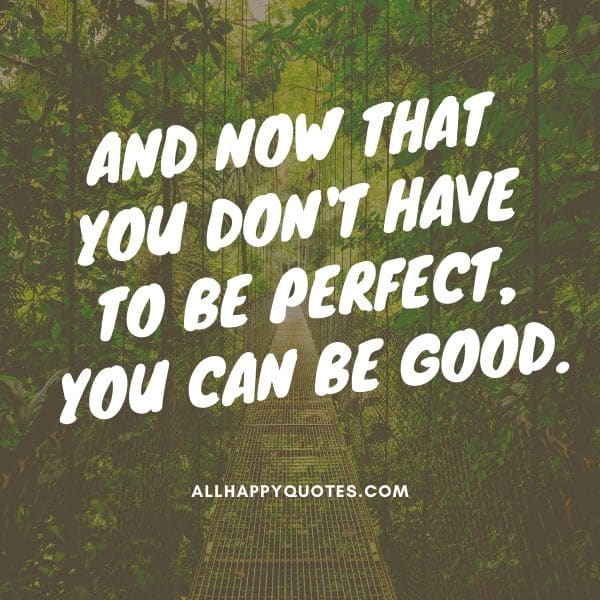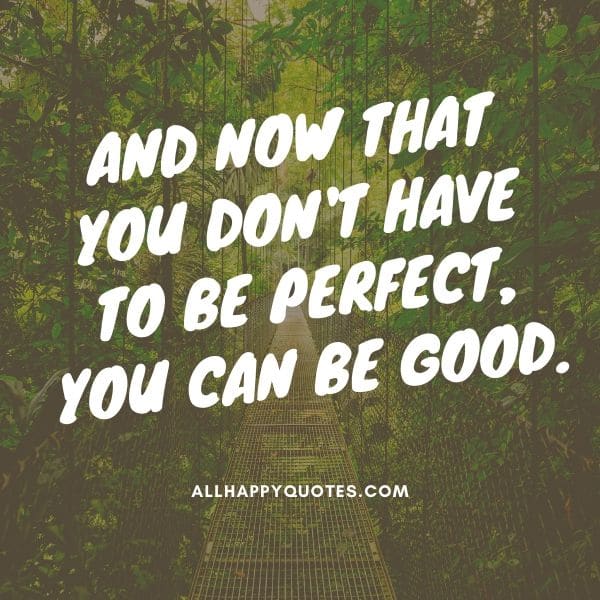 As you grow older, you will discover that you have two hands, one for helping yourself, the other for helping others.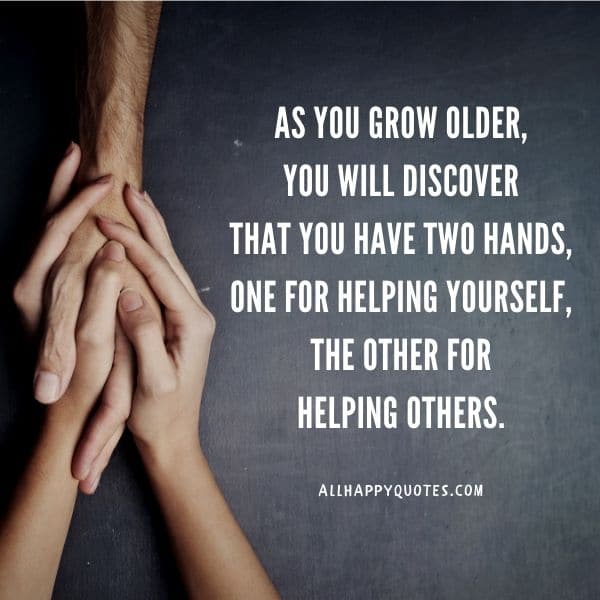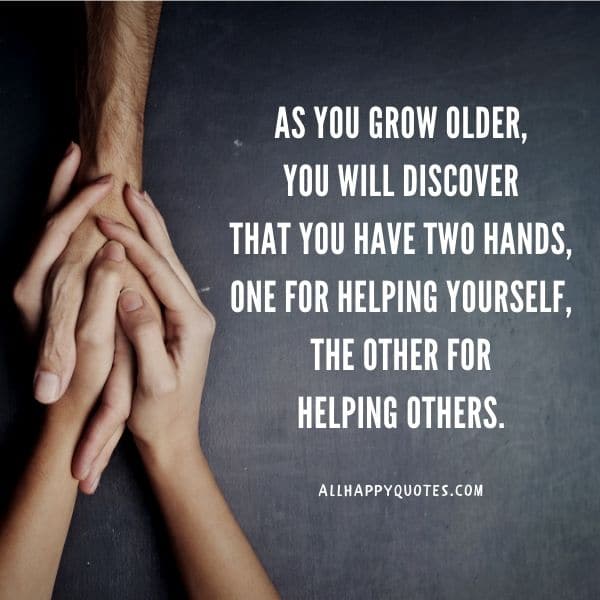 How do you define 'taking care of yourself'? Create a new self-care practice today. Observe your comfort level when it comes to being good to yourself. Discomfort is a wise teacher.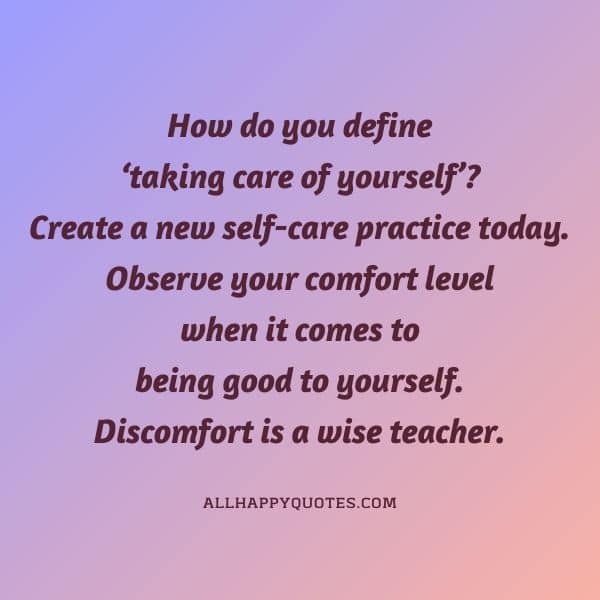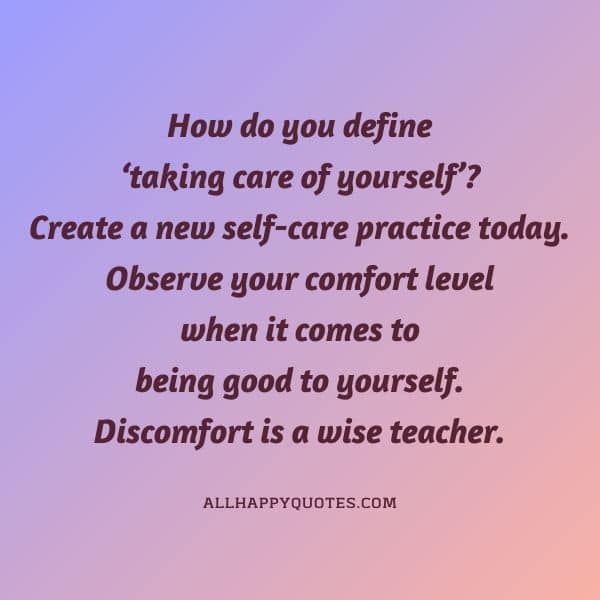 For us to feel good emotionally, we have to look after ourselves.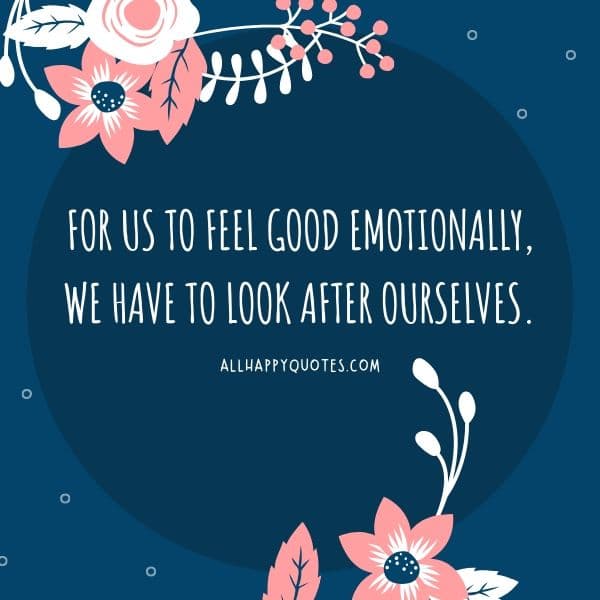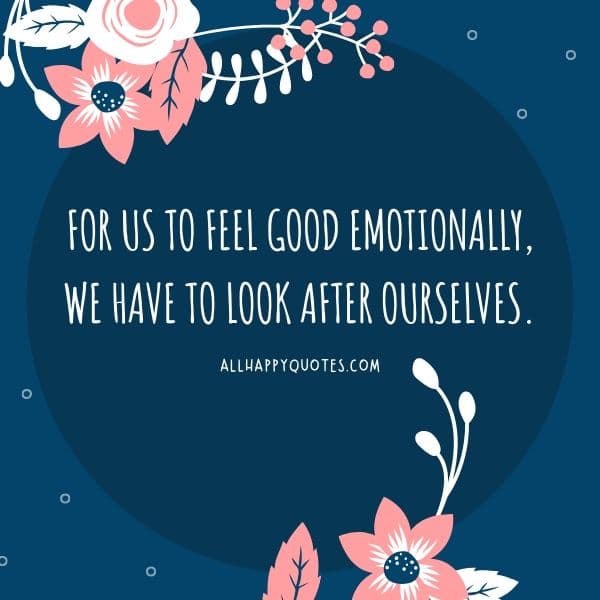 If your compassion does not include yourself, it is incomplete.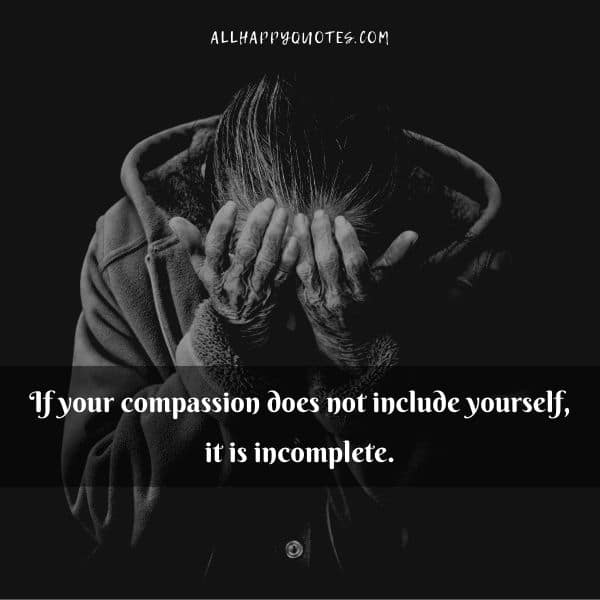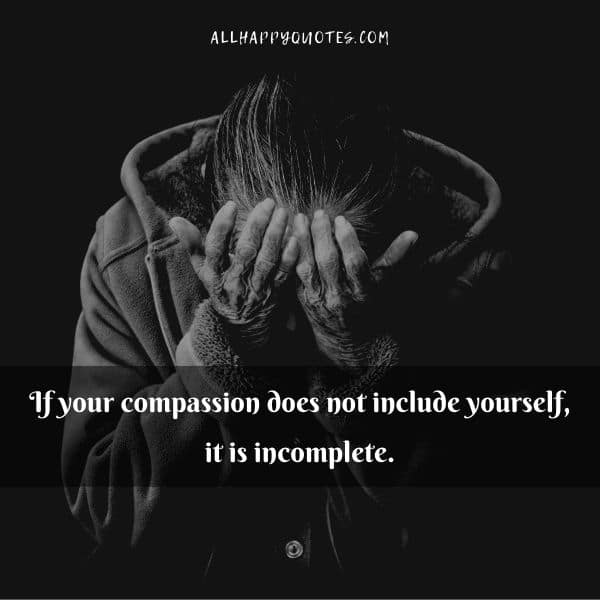 Self Care Motivational Quotes
Lighten up on yourself. No one is perfect. Gently accept your humanness.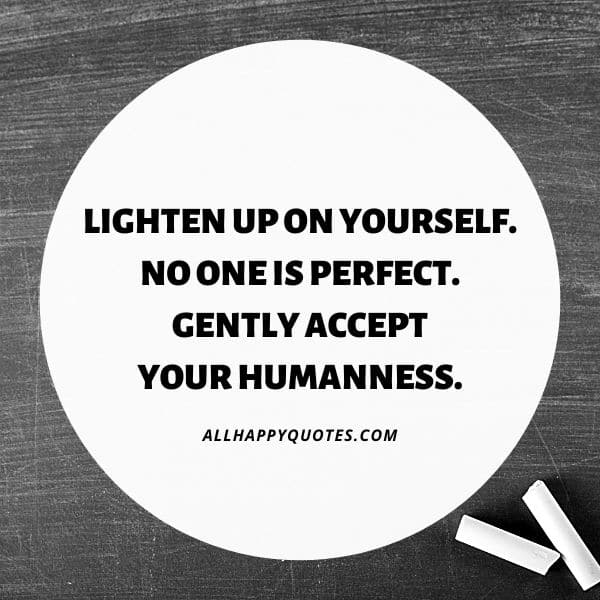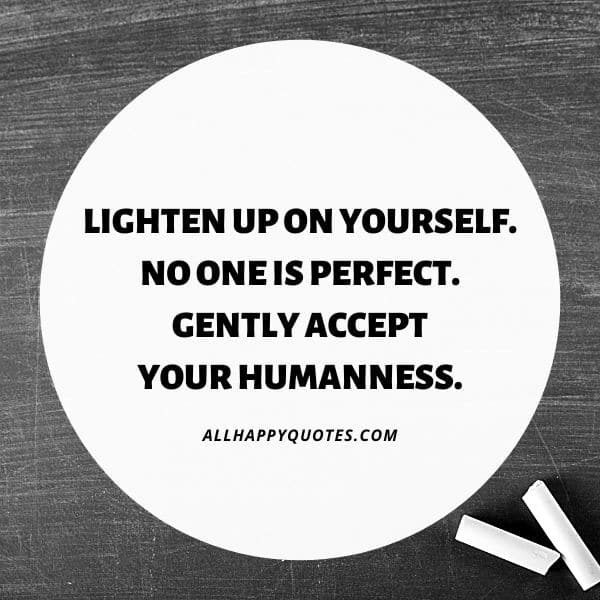 Rest and self-care are so important. When you take time to replenish your spirit, it allows you to serve others from the overflow. You cannot serve from an empty vessel.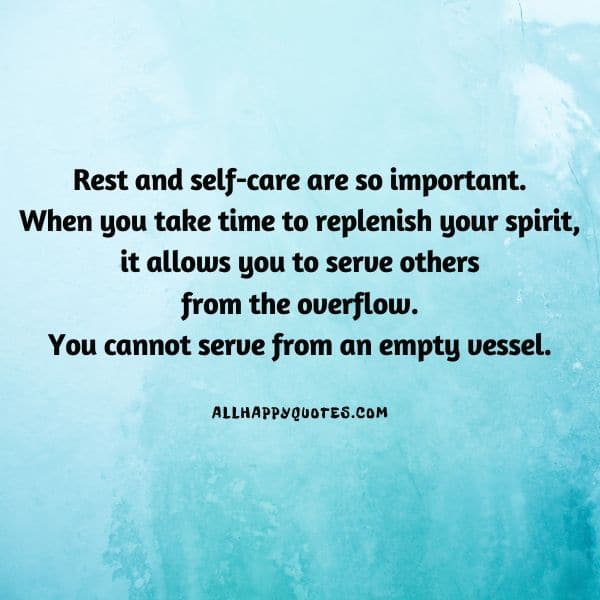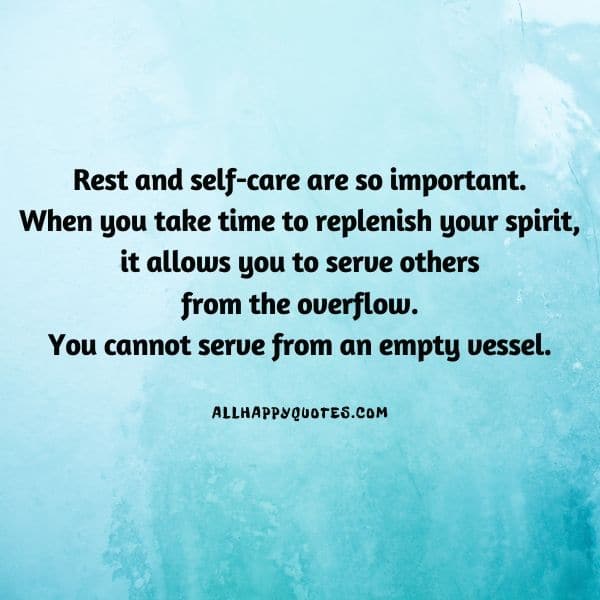 Nourishing yourself in a way that helps you blossom in the direction you want to go is attainable, and you are worth the effort.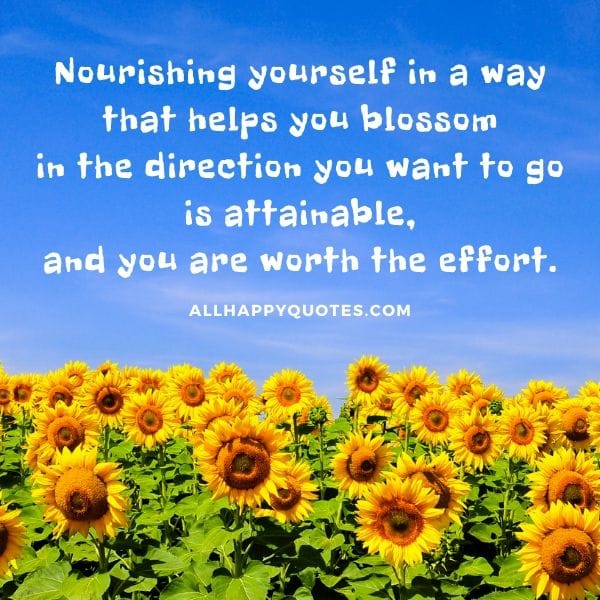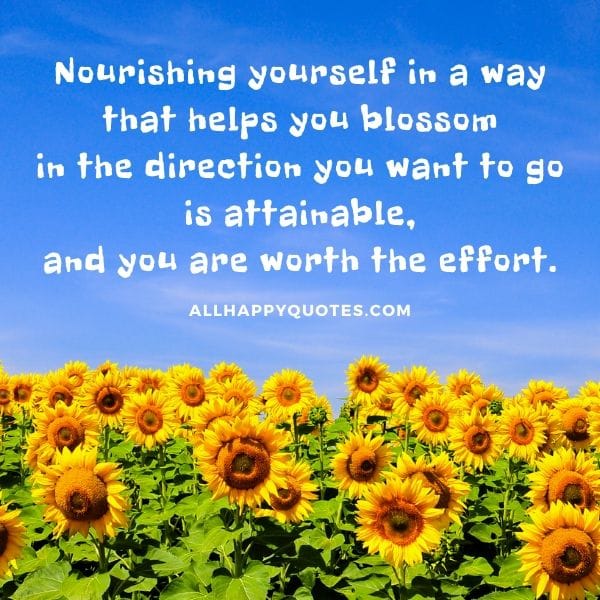 My mother always says people should be able to take care of themselves, even if they're rich and important.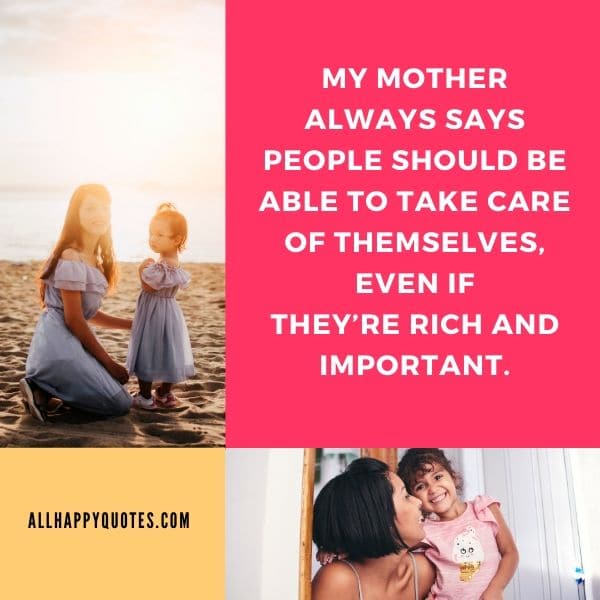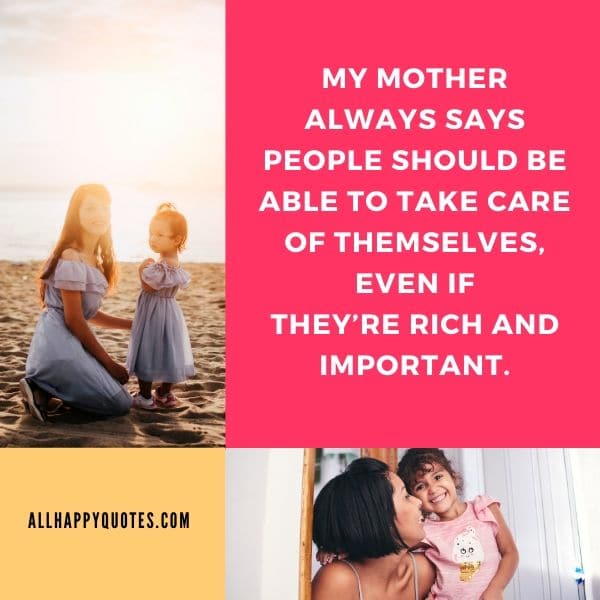 You can't pour from an empty cup. Take care of yourself first.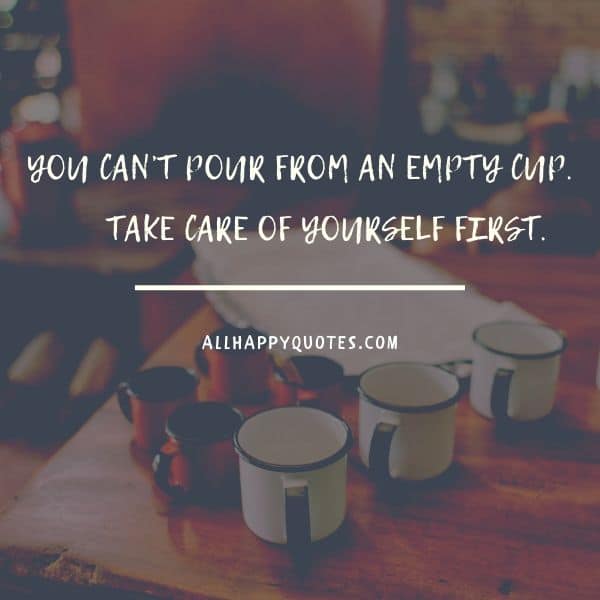 Remember that this is YOUR LIFE, and nothing is more important than YOU.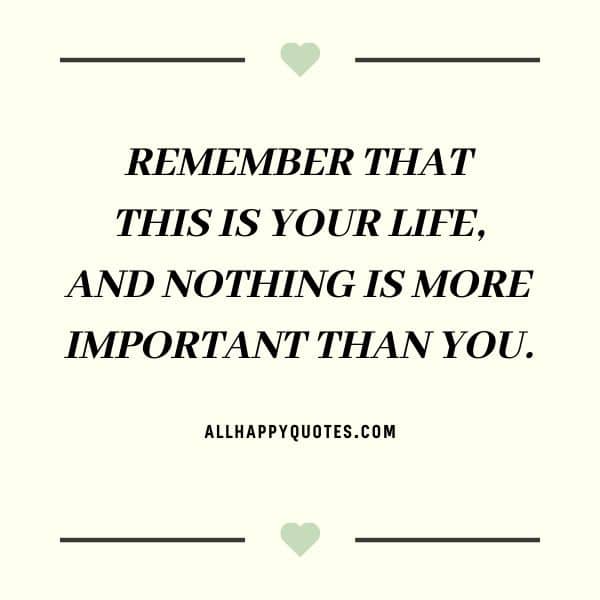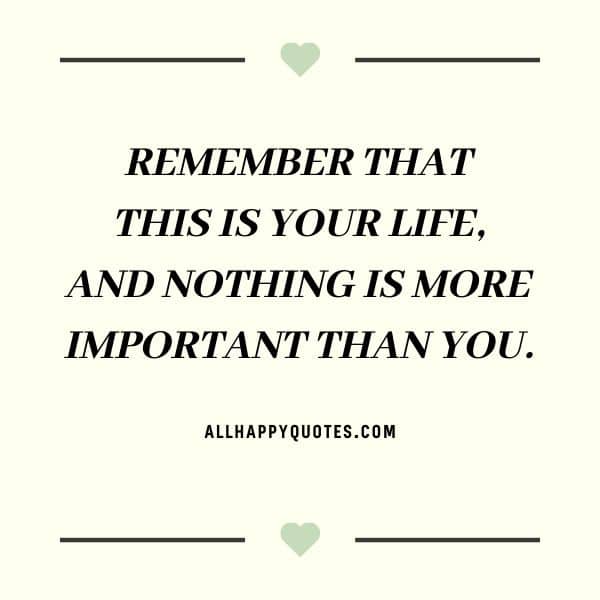 Self-care is taking all the pressures you are facing right now, and deciding to which you will respond, and how.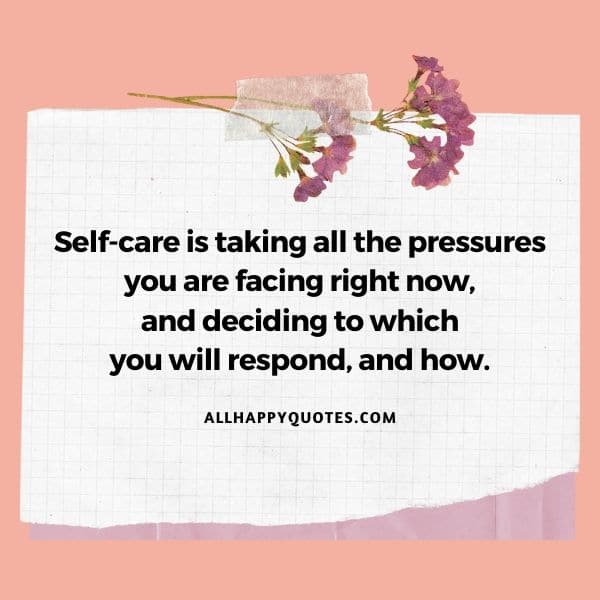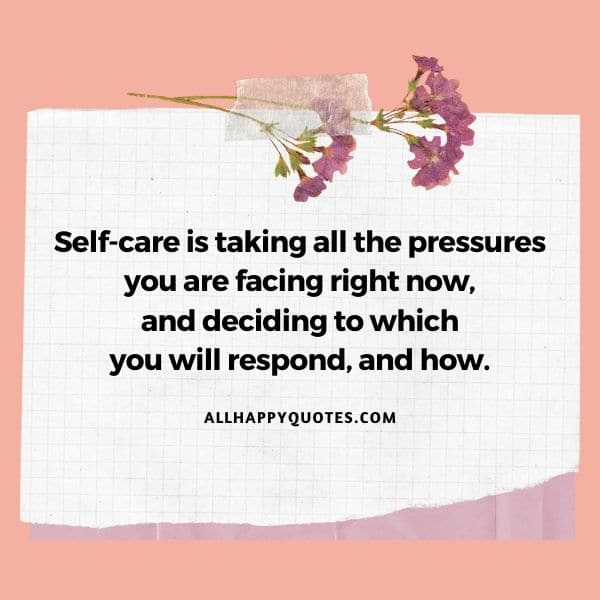 You aren't doing "nothing" when you choose to put your wellbeing first. In fact, this is the key to having everything.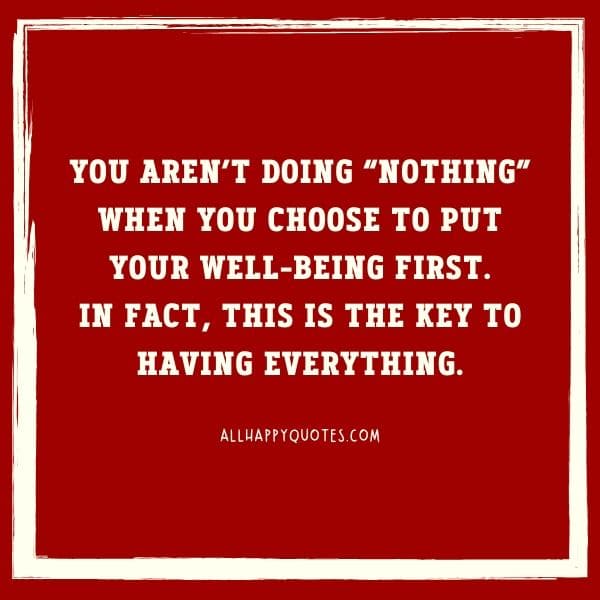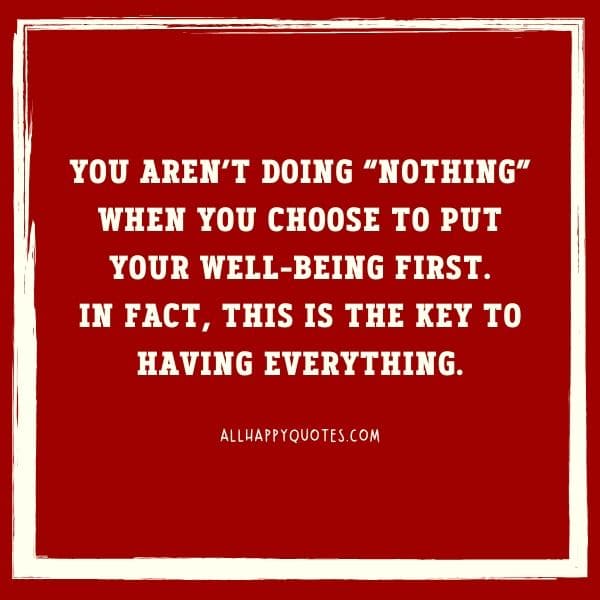 Almost everything will work again if you unplug it for a few minutes, including you.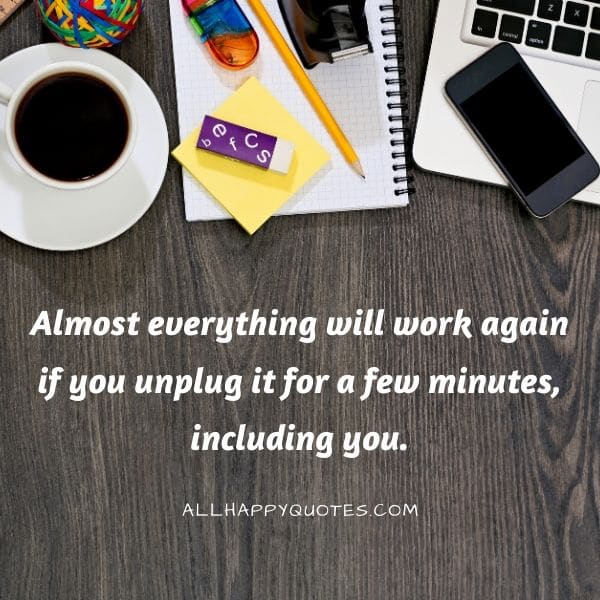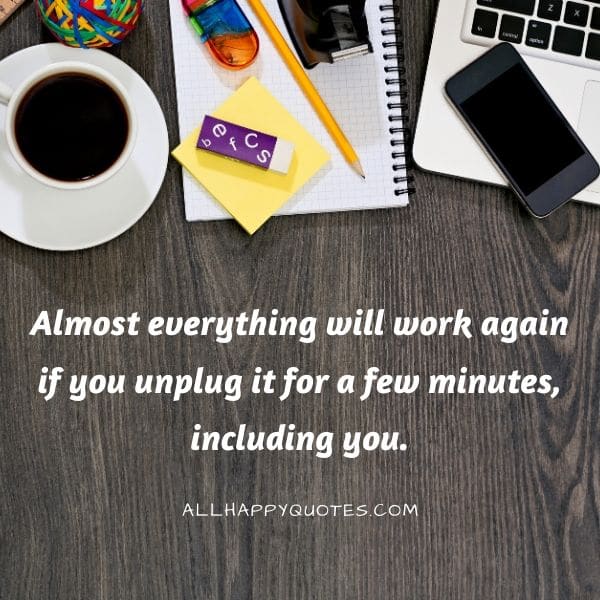 Time you enjoy wasting is not wasted time.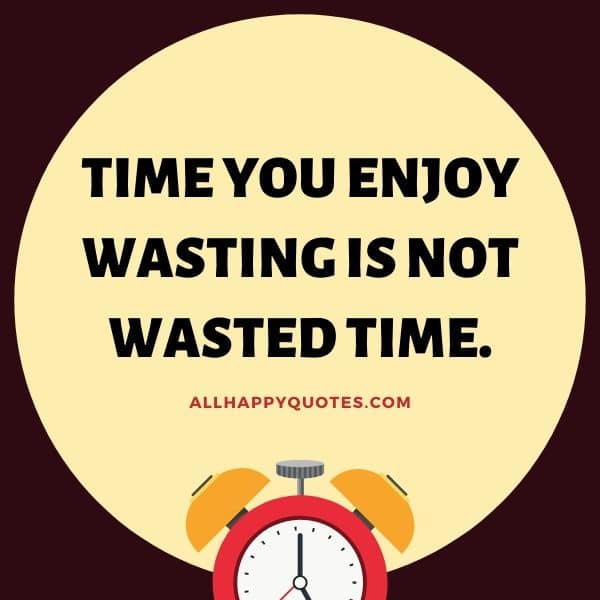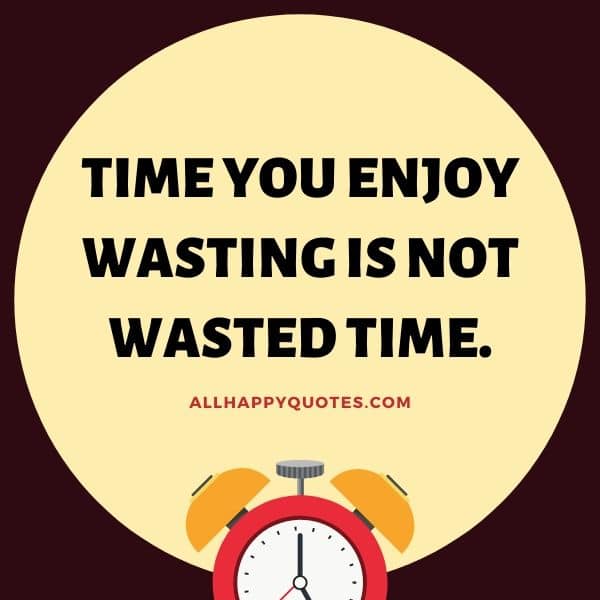 Daily Self Care Quotes
Be kinder to yourself. And then let your kindness flood the world.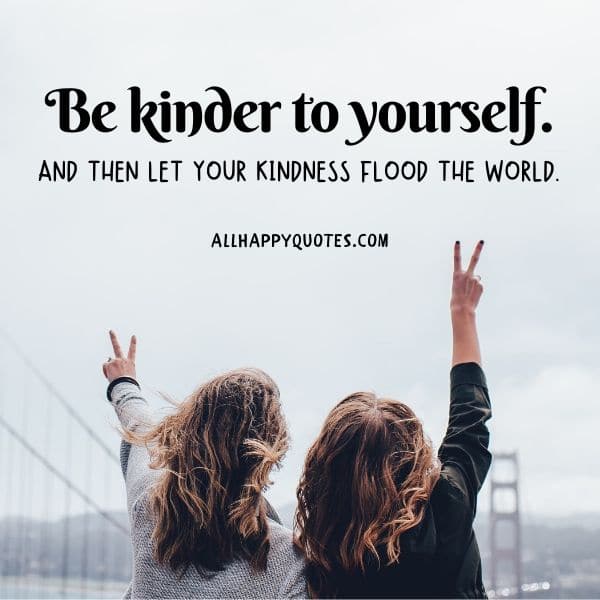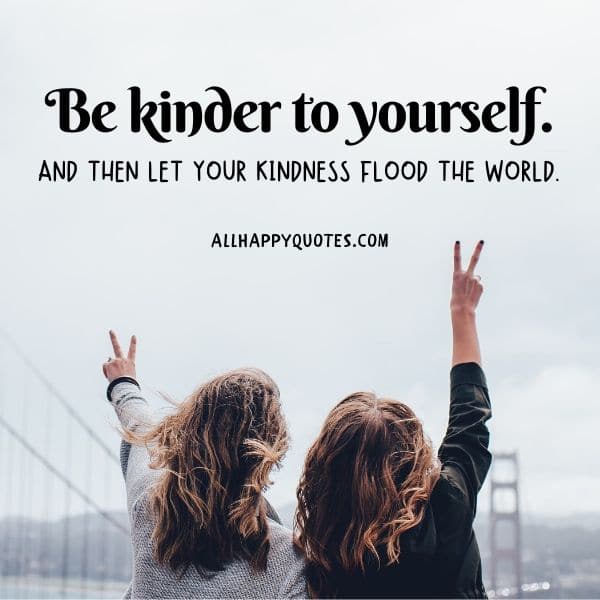 Allow yourself to enjoy each happy moment in your life.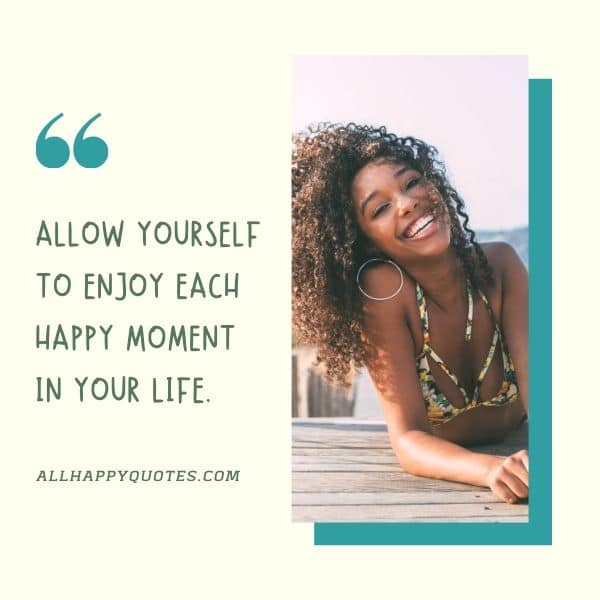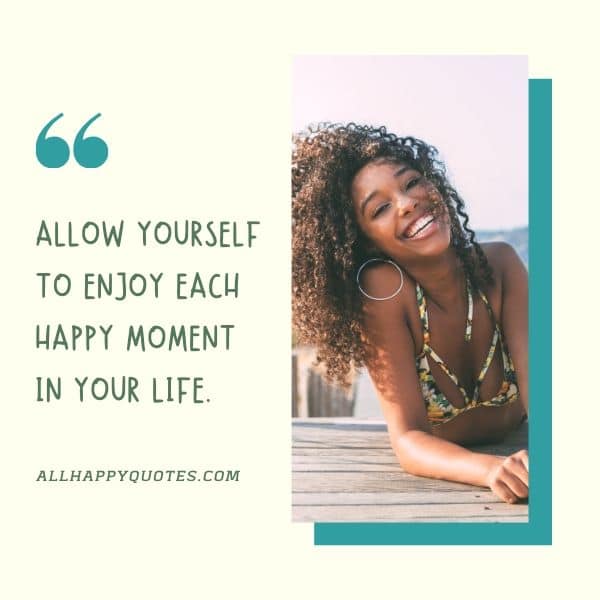 Taking care of yourself is the most powerful way to begin to take care of others.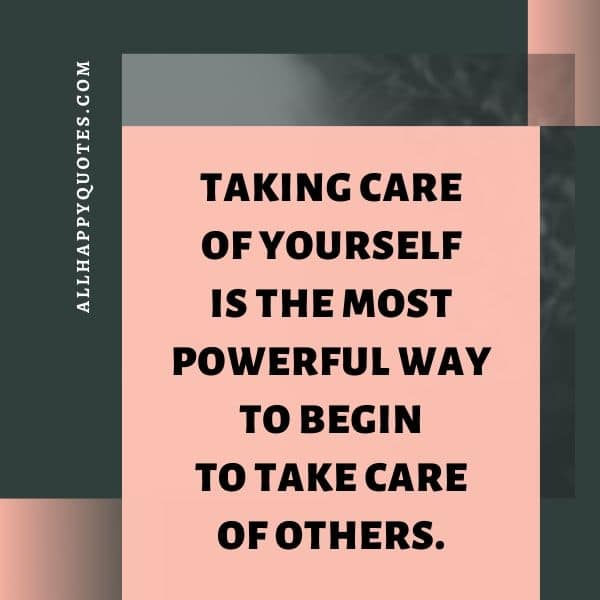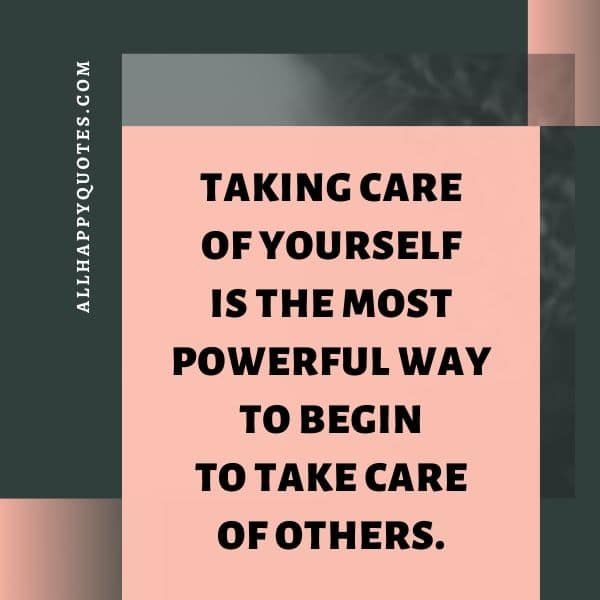 It's not selfish to love yourself, take care of yourself, and to make your happiness a priority. It's necessary.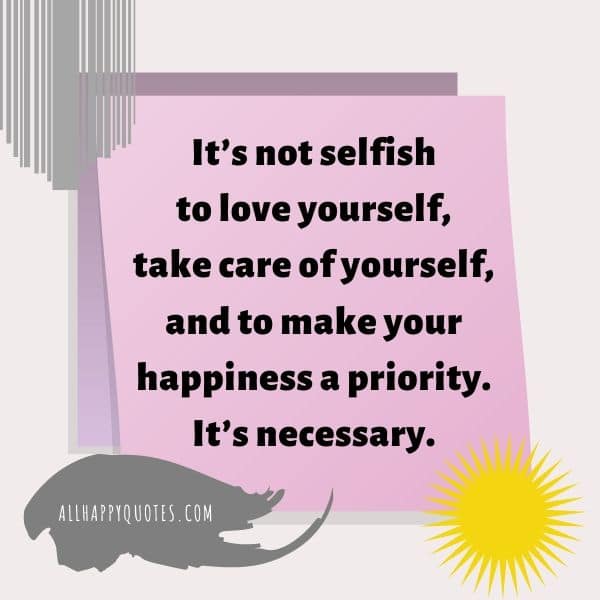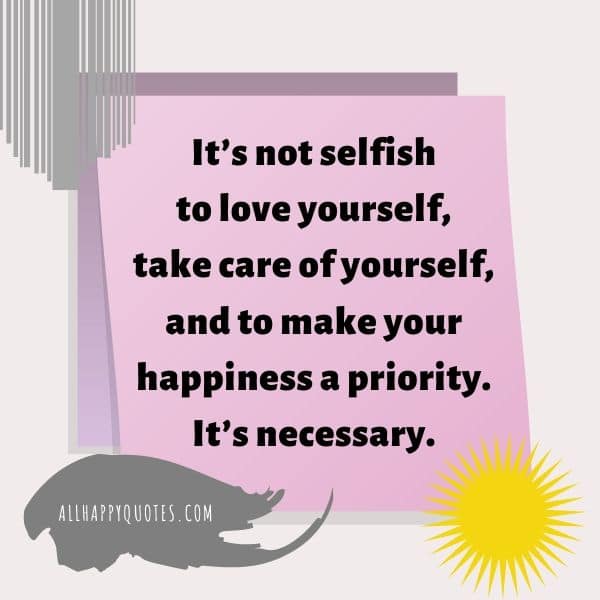 Every morning, look in the mirror and affirm positive words into your life.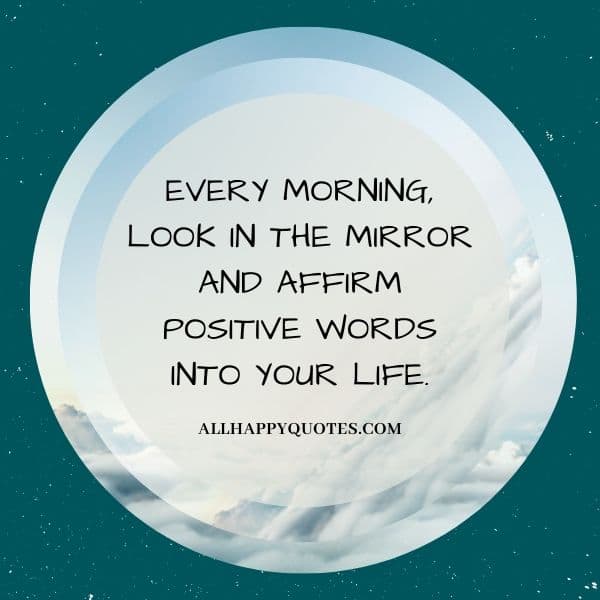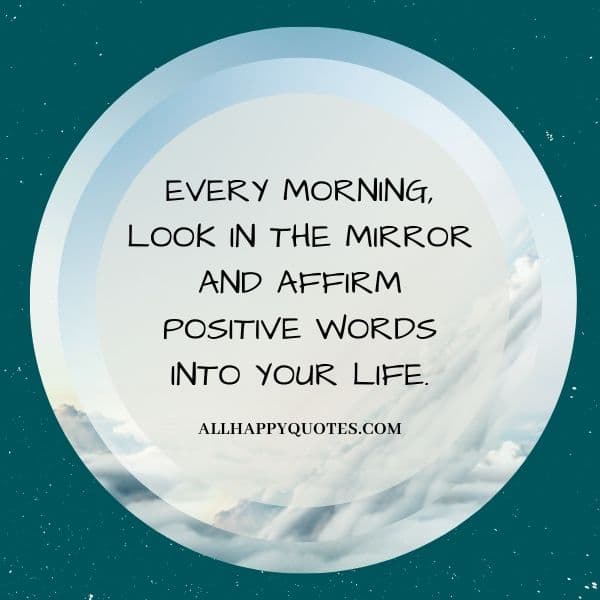 Put yourself at the top of your to-do list every single day and the rest will fall into place.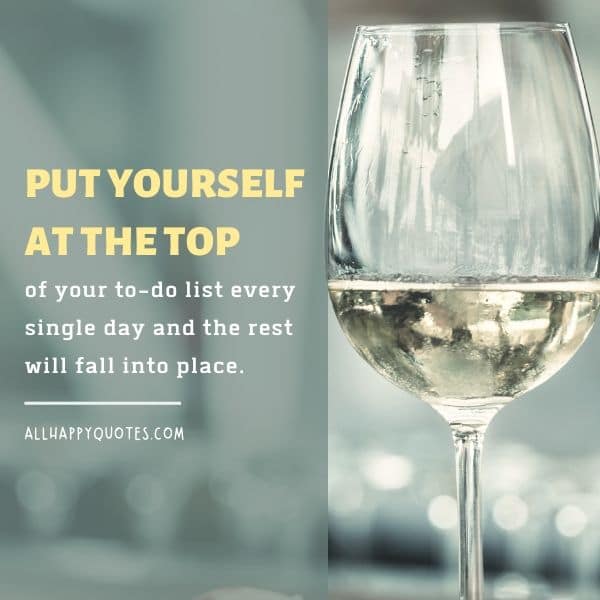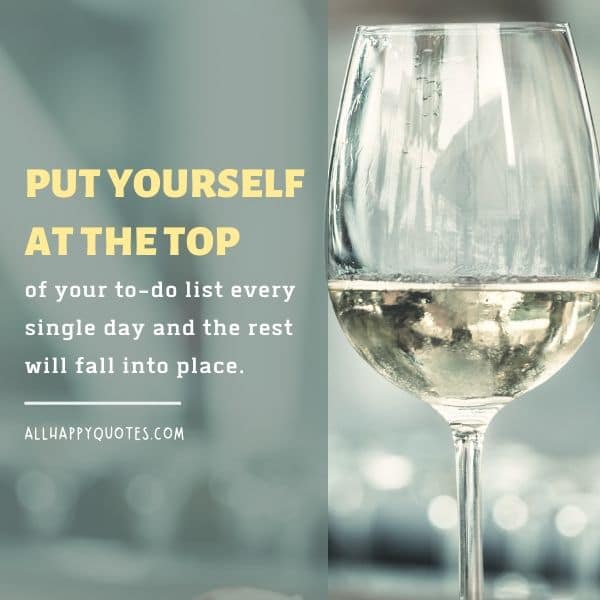 When you can't find your purpose in a day, make it to look after yourself.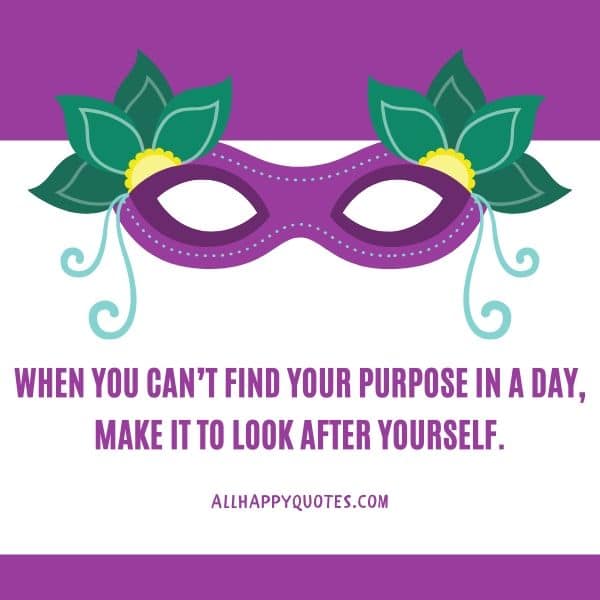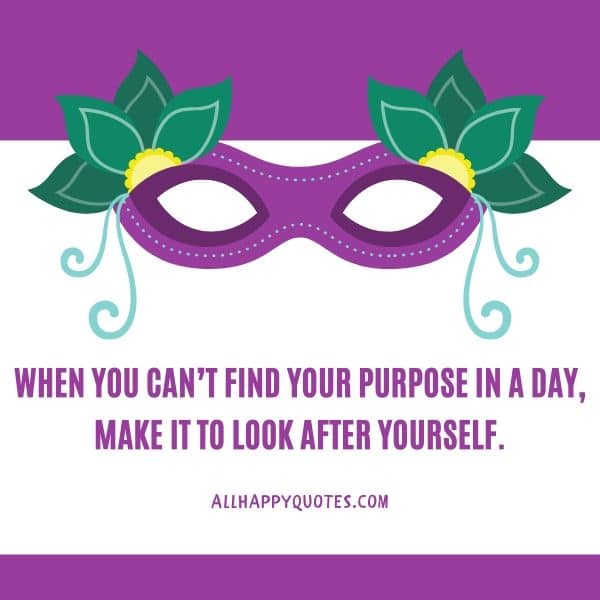 Take time to do what makes your soul happy.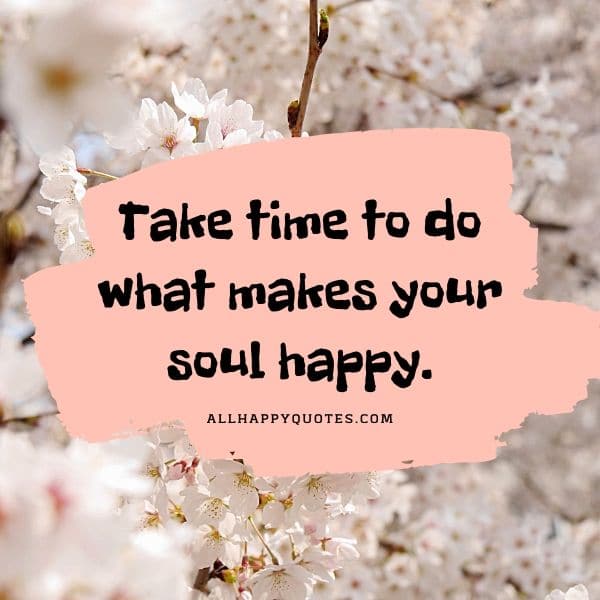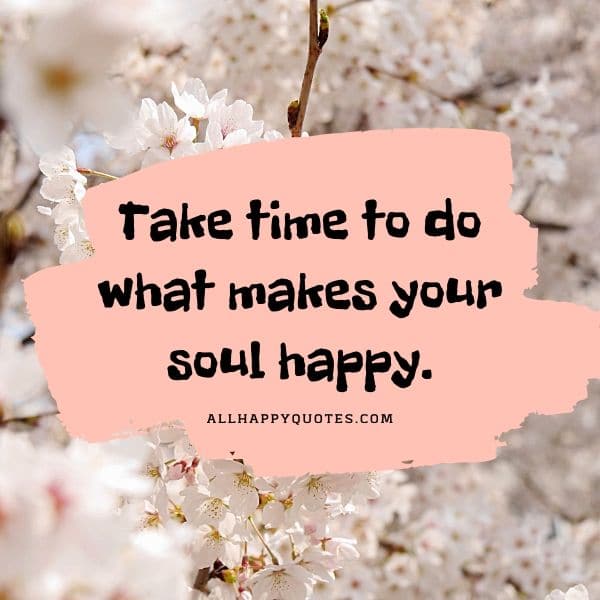 Self care is not a waste of time. Self care makes your use of time more sustainable.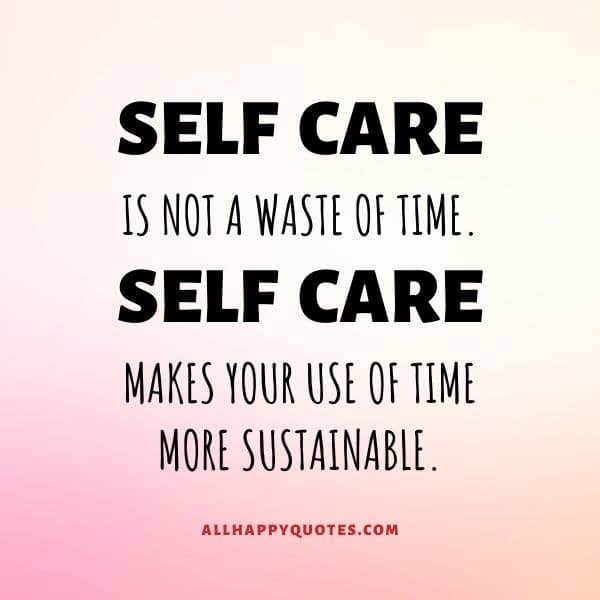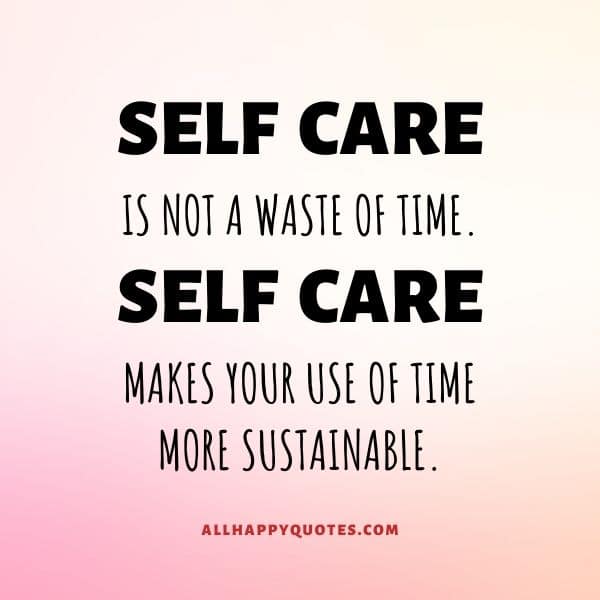 Do something every day that is loving toward your body and gives you the opportunity to enjoy the sensations of your body.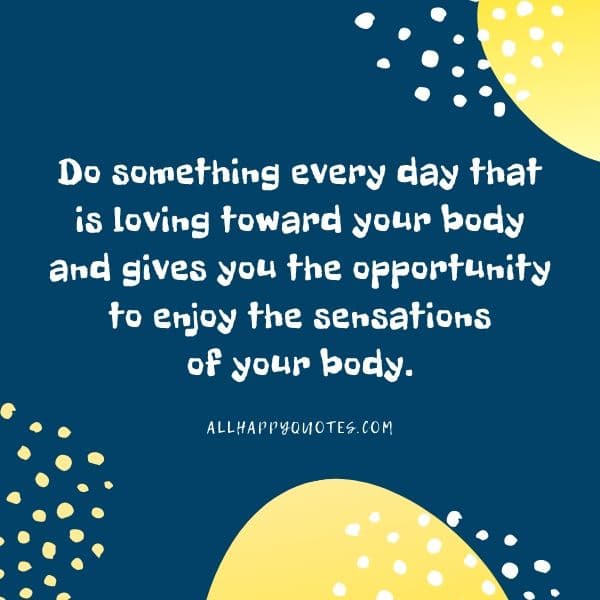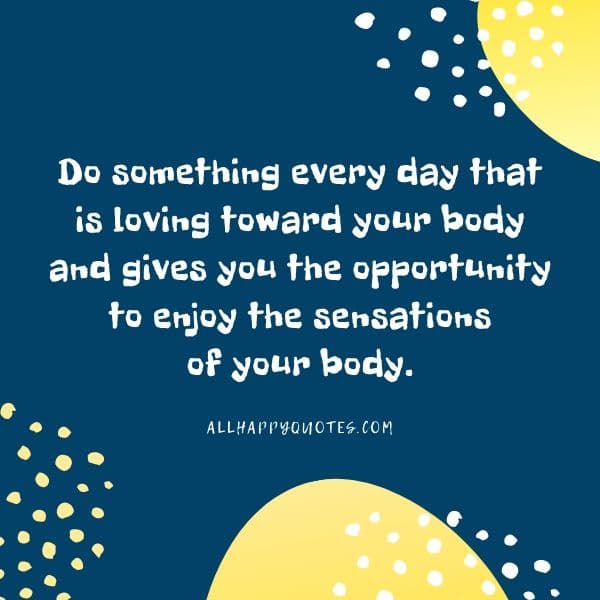 Importance of self-care
In the multitude of everyday duties and a thousand things to do, it is easy to feel overwhelmed. Especially ambitious people, who are very keen on getting the best results, sometimes demand too much from themselves.
They blame themselves when something doesn't work out for them and the result isn't as they expected. They can't forgive their mistakes and have trouble being good to themselves.
This causes unnecessary stress and frustration. Sometimes it also affects their physical and mental health. However, there is no rule that you must always carry the weight of the world on your shoulders. You do not have to be perfect and omniscient. Your path to success should not lead to destruction.
In difficult moments, you sometimes have to take a step back and look at the whole situation from a broader perspective, be more kind and forgiving to yourself.
Why is self-care important?
It's worth taking care of yourself at any age. It is important to take care of both your external appearance and your interior. Very often people complain about pain in the whole body.
This is undoubtedly influenced by their current state of health or simply their age. The older a person, the more fragile and more sensitive the body is to diseases. However, ill-health is often caused by simple negligence in relation to one's own body.
It is worth taking care of physical activity already in youth so that the body remains fit. Above all, it is necessary to develop certain habits, a regularity of pro-healthy behavior, which will continue regardless of age.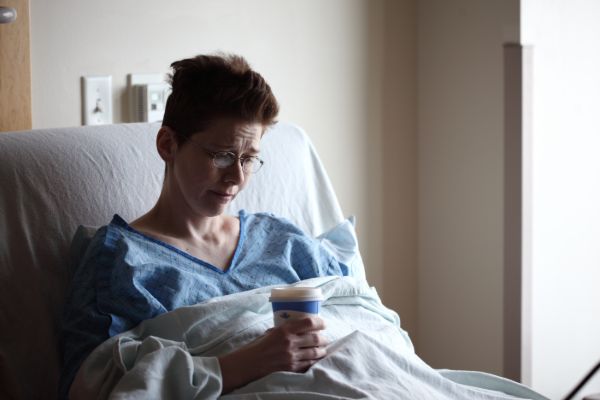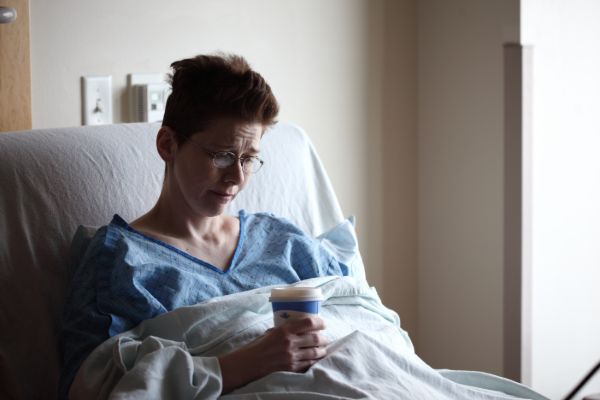 Nowadays, people most often lead to a sedentary lifestyle, which is a source of many diseases and leads to obesity. Additionally, it creates a feeling of indifference and apathy.
Physical activity can certainly protect us from everyday monotony and guarantee health. Therefore, it is worth taking care of regular, daily walks in places least exposed to smog.
If it is possible and the weather is favorable for this, you can once a week use exercises in a gym under a cloud. Cycling or swimming in the pool will be a great way to keep you fit. An excellent form of exercise for seniors is yoga or Nordic walking.
It is also important to be systematic in life, for example by introducing, if possible, the same time of eating or lying down to sleep. It should be remembered that regular and peaceful sleep enables maximum regeneration of the body.
Self care through nutrition
Adequate nutrition is also a key factor in the care of your own health. The consumption of greasy, salty, sweet and processed products should be limited. This does not benefit the body as a whole but always leads to an increase in weight and thus to many diseases and illnesses.
You should enrich your diet with fruit, vegetables, whole-grain products, fish, and lean meat. You should avoid too much white bread, cakes, coffee, alcoholic and carbonated drinks.
It is worth making sure that your diet is rich in nutrients and vitamins, juices or herbal teas, and spring water that perfectly supports the body's functions. You also should not forget about regular medical examinations.
Early detection of the disease allows us to stop its further development and cure it completely. It is worth taking care of ourselves because we help our organism and give ourselves a chance to live longer in health.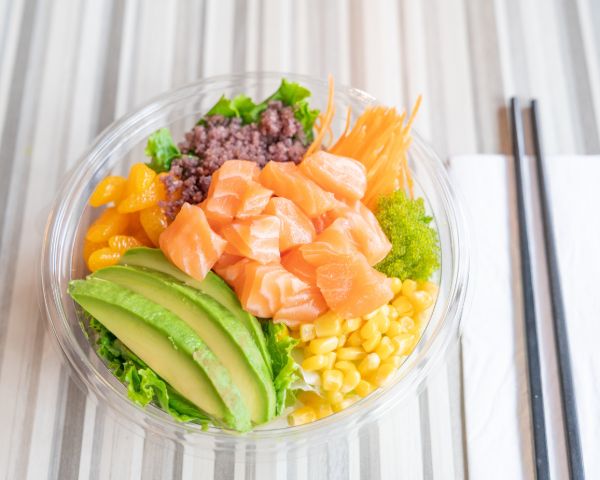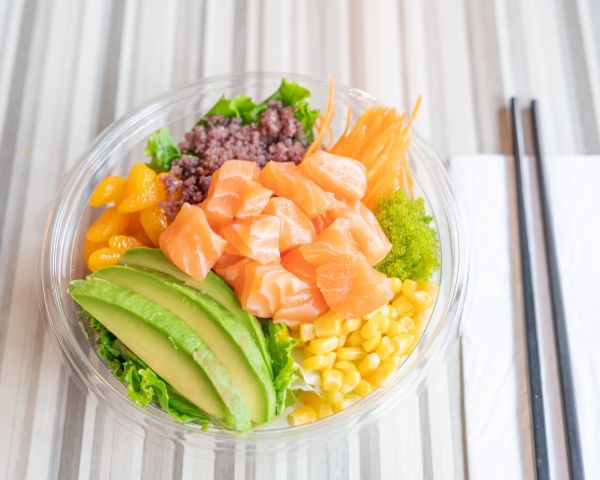 It is also worth taking care of your appearance. Thanks to this you gain a better mood, greater motivation to act, and greater self-esteem. A healthy appearance attracts the attention of other people and arouses their approval and admiration.
When you feel satisfied with your appearance and accepted, the level of endorphins increases in your body. These are the hormones of happiness that guarantee your well-being and relieve pain and depression.
A good mood helps to create friendly relations with other people. Caring for your external image is not shallow or superficial at all. It has a significant impact on our sense of value and makes us full of good energy, which helps us make new friends.
People love being among cheerful, positive people. Smile and kindness open all doors and hearts.
Taking care of yourself is also taking care of your psyche, which needs a moment of silence during the day, focusing on your thoughts. It can be reading a book, listening to your favorite music, watching a movie, a massage, or a visit to a beautician or a hairdresser.
Just do something, a little selfish maybe, but just for yourself. Leave your responsibilities for a moment and take care of your own mental comfort. Recharging the batteries is essential for everyone, especially in old age. These are not selfish behaviors; on the contrary, these activities help us to be better for others.
How do I have time for myself?
You probably already know that taking care of yourself is extremely important. But in practice… How do you find time to take care of yourself? Let's start with a job. Don't get lost at work and don't subordinate your whole life to other people's demands!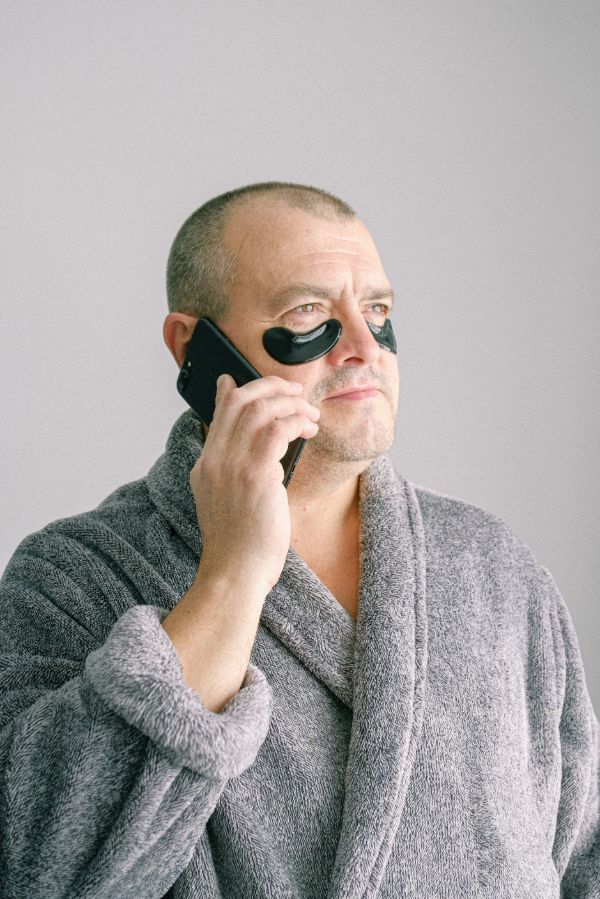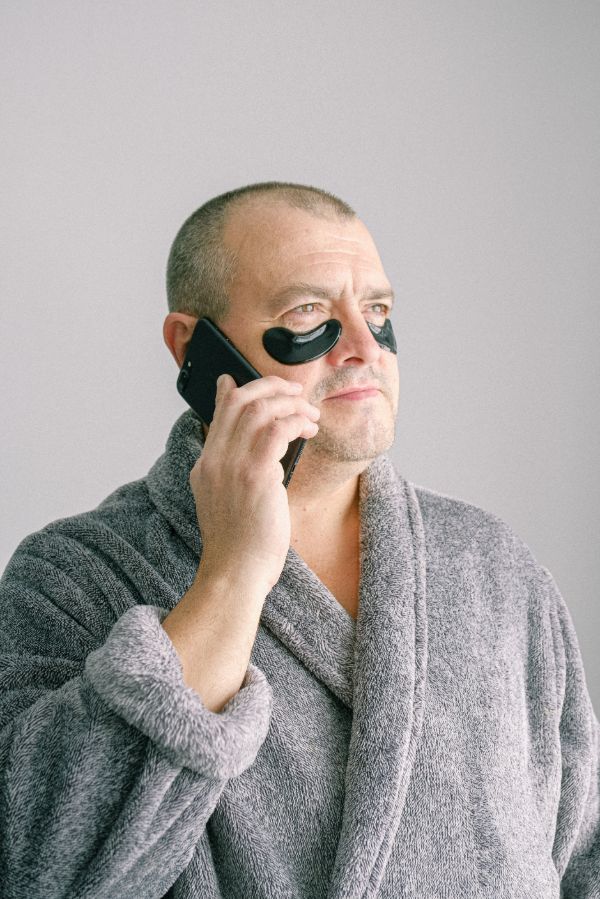 Set clear boundaries, between the time at work and time outside it. It's not normal for the boss to call you at eight o'clock and ask you to make a mega report at 6 am.
You don't have to throw away what you're doing just because someone suddenly puts an extra task ahead of you that could have been predicted and done before. You're entitled to your private plans.
If you don't fight for yourself and your work-life balance, no one else will do it for you. You have to be assertive, have a sense of self-esteem, and set clear boundaries.
In addition to taking care of the work-life balance, you must also take care of the balance in the family. If you don't feel comfortable with your daily duties, think if you can change something during your daily routine and who can help you with it. Look at your schedule.
You will surely discover that there are areas where someone from the family can take over part of their daily duties. You don't have to do everything yourself!
During a nice family cup of coffee or tea, you can divide roles and responsibilities at home! Try to divide the daily work in such a way that everyone will be able to do the jobs they like to do and the less pleasant ones. You will surely find a compromise that will satisfy all the household members.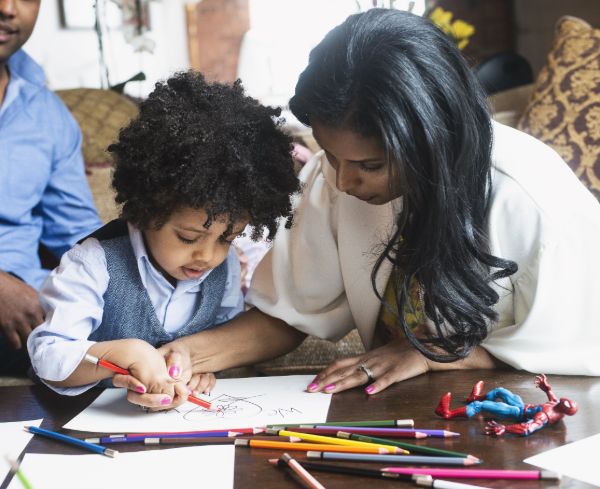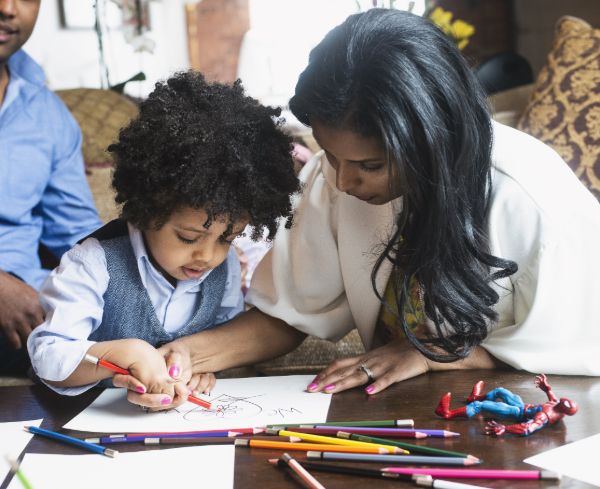 Moreover, you will not only feel that you are not alone in this daily chase but you will gain more time. And this is the time which you should spend on your pleasures. Go for a walk, read a book, meet with friends, go to the cinema or just have a quiet coffee. Do something that will make you happy and you'll forget about the daily chase for a while.
What does it mean to take care of yourself?
Taking care of yourself is the foundation of a good relationship with yourself. When we break with self-destructive habits for actively satisfying our needs, our self-esteem grows and we feel better in our own skin.
When you take care of yourself you want and do good things for yourself in several areas: psychological, physical, spiritual. The most basic and important things to take care of ourselves are sleep, rest, healthy food, movement, taking care of our bodies.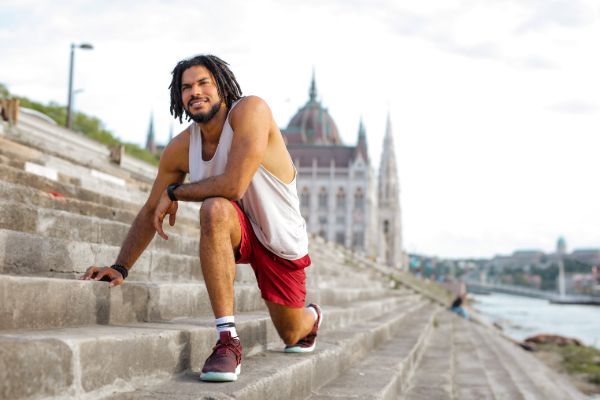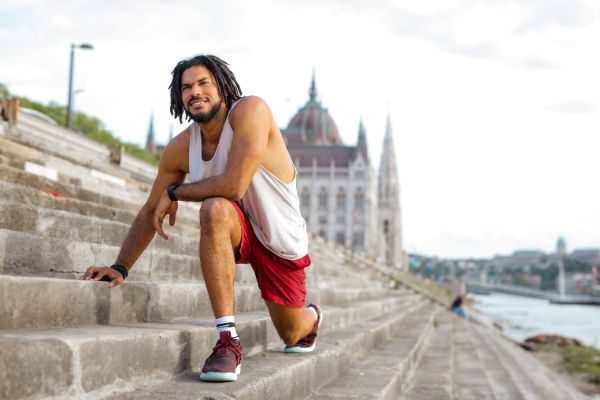 If we obey these principles we will remain healthy and energetic. The psychological context of self-care is of no less importance. It is vital not only to feel healthy but also to understand yourself, to be aware of your emotions, your actions and accept them.
Take the time today to love yourself
We should learn to take care of ourselves; to be our friend and ally, not an enemy. Pleasure and self-experience seem to be the basis of mental health and the ability to enjoy life. Starting from being good to ourselves, we will also be more effective in promoting the good of others.
Each of us should take care of ourselves. A good relationship with yourself is the foundation of a healthy sense of self-esteem and natural, inner motivation. We hope that these self-care quotes will help you to look after yourself even during the busiest time of your life.
Did you like the self care quotes we have created for you? Which one was your favorite? I'd love to hear from you in the comments below!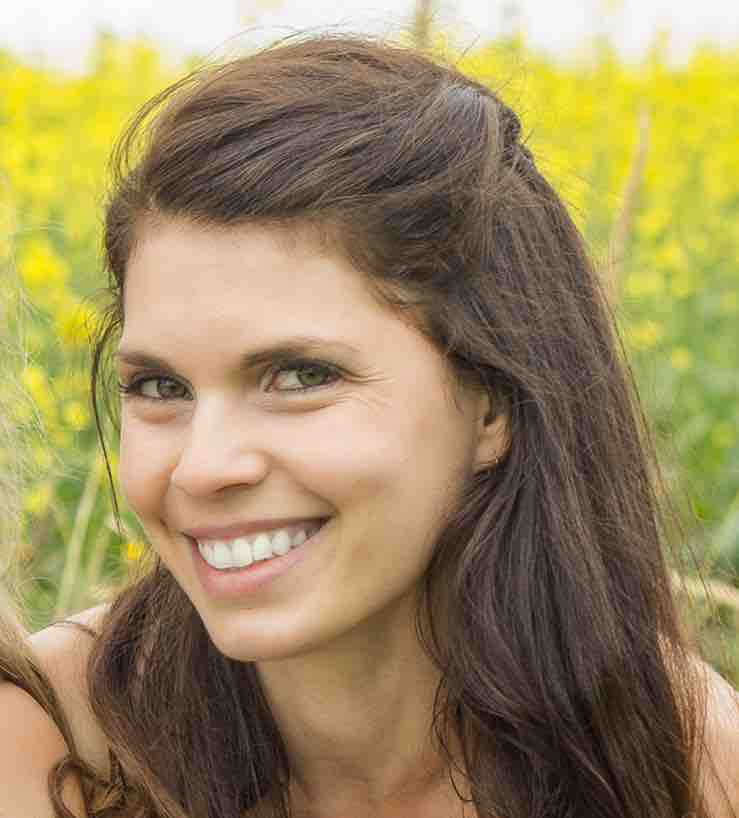 Hi! Celine here, your Chief Happiness Officer. I'm teaching my daughters how to spark happiness in order to find become happy from within. I didn't expect they would've be teaching me as much as I teach them. Sam, my eldest said to me, 'Ma, we can make more people happy online.' Since then, we've dedicated ourselves to this community to bring happiness to YOU, wherever you are!