"Age appears to be best in four things; old wood best to burn, old wine to drink, old friends to trust, and old authors to read." – Francis Bacon
If you want to wish a friend a happy birthday in a little different way this time, then creating a video for a birthday can be a good way to convey your happy birthday message to him.
At present, birthday videos are a popular trend. Even social platforms like Facebook etc. are offering recap videos and timeline video posts on occasions of birthdays. You can then post the video captioned with the best happy birthday message you can think of or one that you will get from this collection of the very popular ones.
Happy Birthday Message Images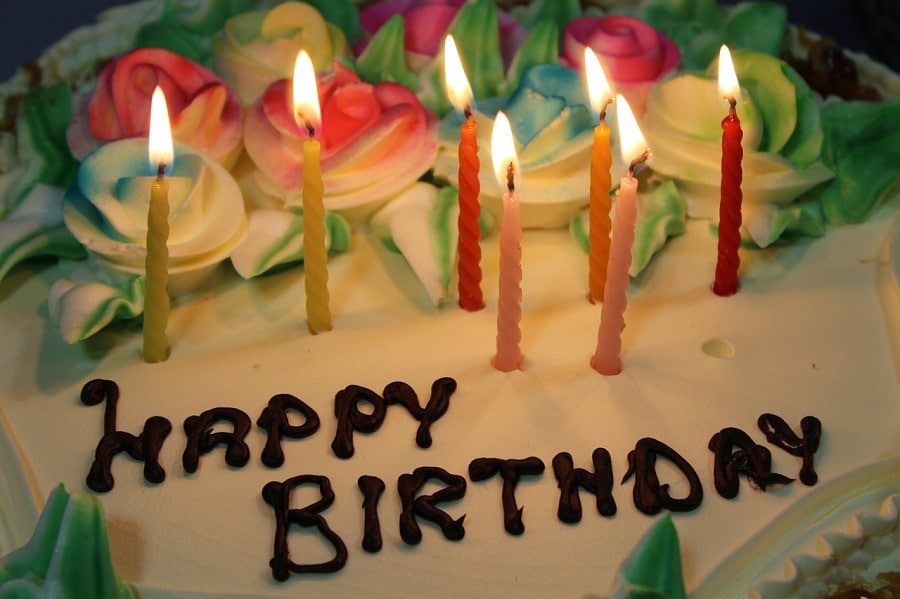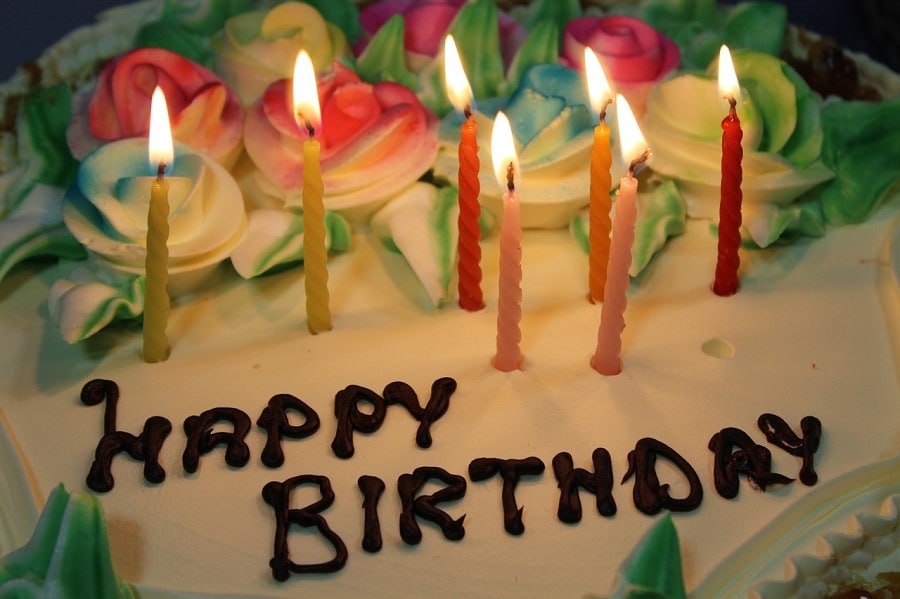 There are many unique ways to convey your awe inspiring happy birthday wishes. One of them is to send happy birthday messages.
Happy Birthday Messages
A happy birthday message can be a good start for a special day. Send one from the following:
Every blessed day I get to spend with you is the greatest day of my life. Best wishes and love.
Count your life by smiles, not tears, Count your age by friends, not years. Happy Birthday…
I couldn't let a day like today pass me by without stopping to say Happy Birthday! Kind wishes, your friend.
Happy birthday to you, dear friend. Wishing you lots of fun-filled experiences and wonderful gifts on your special day. I appreciate our friendship more than anything in this world.
As you get older and grow wiser, be sure to look ahead to better days and not behind dwelling on the past. The best is yet to come. Happy Birthday to you, pal!
Count not the candles…see the lights they give. Count not the years, but the life you live. Wishing you a wonderful time ahead. Happy birthday.
Forget the past; look forward to the future, for the best things are yet to come.
Birthday Wishes Messages
Just a simple happy birthday can make a lot of difference to our birth day anniversary. Then these wonderful words that specially say to us to enjoy our day as much as we can can make a lot of difference.
Having a special friend celebrating his/her special day today is a delight. I wish you eat lots and lots of special delicacies on this special day of yours.
I can't believe it took you 30 years to grow up. Better late than never, Happy Birthday…!
Wishes from the heart to a phenomenal soul. May your life be sweeter than the sweetest candy in the world.
Being related to me is really the only gift you need. Happy Birthday!
It's remarkable how long we've tolerated each other. Happy Remarkable Birthday.
If our friendship was a contract, it would read five words, I'm always here for you! Happy Birthday!
Happy birthday! I hope all your birthday wishes and dreams come true.
Happy Birthday Message to a Friend
Special messages of happy birthday wishes for a friend who is dear to us.
I can search for a lifetime and never find a friend as decent as you. Have a wonderful birthday, my friend!
Enjoy your special day, my dear friend. Every day I pray that I never forget how blessed I am to have someone precious like you in my life.
Having a friend like you makes life so much more special. Have a wonderful birthday!
A good friend will remember your birthday. A great friend will forget your age. Happy Birthday!
May this be a blast like never before! You deserve it and many more. And please don't forget to keep up the sockless tradition — nothing beats that. Have a truly blessed and awesome birthday!
May the joy that you have spread in the past come back to you on this day. Wishing you a very happy birthday!
May you be gifted with life's biggest joys and never-ending bliss. After all, you yourself are a gift to earth, so you deserve the best. Happy birthday.
Birthday Message for a Special Friend
A special friend is somebody that you are only friend with but you want to have more than friendship with. Say happy birthday with these special messages for friend.
I always feel grateful to have a friend like you in my life. Have the most wonderful birthday imaginable!
Here's to this remarkably special day of your life. May you know true happiness on this special day and forever.
Happy birthday to my bestie. Thank you for knowing me like no one else does!
Lots of people are thinking of you on your birthday; I just wanted to let you know that I'm one of them! Happy Birthday!
Take a moment and look around. You are surrounded by those who love you most. Whenever you feel unappreciated, remember that your friendship is valued and your love is appreciated.
Throwing a birthday party on your behalf is the least I could do for you this day, dear friend. My best wishes to a wonderful friend who has always stood by me when I had no one around me.
Happy birthday! Your life is just about to pick up speed and blast off into the stratosphere. Wear a seat belt and be sure to enjoy the journey. Happy birthday!
Happy Birthday Message for Sister
The cute little tattle tale or the charming little mother in the house. Say you love having her around on her special day with these warm happy birthday messages. Visit 201+ Happy Birthday Wishes for Sister with Stunning Images for more!
You make life amazing and much more relaxed with your warm smile and cozy hugs. Long live this awesome friendship we share.
Wishing the brightest and happiest birthday to the most wonderful girl/woman in the world whom I call my beloved sister. Sis, may your life be nothing short of blissful.
I'm not just here for the sweet treats or the birthday cake. I came to wish my bestest friend a very happy birthday.
Happy Birthday to a friend who knows me like no one else does and is that person in my life who no one else can be…
For your birthday, I wanted to give you something funny & charming, but then I remember you already have me in your life so I got you…
Now you're 18 you're considered an adult & a teenager! Lucky you! Happy Teens Birthday!
I feel proud when I call you my sister. I want to feel this today and every day.
Happy Birthday Wishes and Quotes for Brother
To the man in the house when Dad is not around. He steals little crunchy snacks from the refrigerator but you know you can count on him when the going gets rough. Say you love him with these happy birthday wishes plus images. You might also like allhappyquotes.com/birthday-wishes-brother/
Happiest Birthday! Go out and make some memories to look back on and laugh!
There are advantages to turning 40. You can blame your poor decisions on a midlife crisis. Happy Birthday!
You make every day of my life a beautiful one just by being my brother. Live this day to the fullest, dearest brother.
Did you know it's scientifically proven that people who have more birthdays statistically live longer. Happy Birthday!
Happy birthday brother. You are not only the greatest brother in the world, but also the best friend of mine.
It's an honor for me that the best man in this world is my brother. Happy birthday.
Just wanted to be the first one to wish you happy birthday so I can feel superior to your other well-wishers. So, happy birthday!
Happy Birthday Messages for Her
She was there on the darkest days of your life, you know you can count on her and yet is not yet sure how you two stand. If she is not your sister or your mother, send her these exceptional happy birthday messages.
You stood by me, when the world rejected me. Thank you for showing me love on an unprecedented scale. And do know that I'll never forget your kindness towards me.
To my truest friend: On your birthday, I hope you get a big return on your investment of love and charity. You spend so much time giving to others and sharing that wonderful joy with the world.
That's my birthday message to you, my friend. I hope the sun shines bright for you today and everything goes your way!
Happy birthday, buddy. Long may you live so that I can see your happy face often. Enjoy your day, my dear!
Happy birthday to someone who is smart, gorgeous, funny and reminds me a lot of myself… from one fabulous chick to another!
This birthday, I wish you abundant happiness and love. May all your dreams turn into reality and may lady luck visit your home today. Happy birthday to one of the sweetest people I've ever known.
Wishing you a beautiful day with good health and happiness forever. Happy birthday!
Happy Birthday Messages for Him
Tell him happy birthday with these heartfelt and sincere messages.
You're thirties are no different from your twenties. You just look 10 years older and things aren't fun anymore…!
Happy Birthday! We wanted a candle for every year but the fire brigade wouldn't allow it…
Thank you for being careful with my heart. No one has ever taken care of my heart like the way you do.
It's time to drink champagne and dance on the table! Happy 21st Birthday…
Congratulations on being even more experienced. I'm not sure what you learned this year, but every experience transforms us into the people we are today. Happy birthday!
On this wonderful day, I wish you the best that life has to offer! Happy birthday!
The advantage of old age is that you get to spread your love to many others.
Happy Birthday Message for Best Friend
The one who invests into your friendship the most, more than your other friends. To your best friend share these remarkable birthday messages.
As friends go, you're not one of the best, you are the best! Happy Birthday!
Dear, your birthday celebration is one I would not want to miss for anything in this world because your friendship means so much to me.
If you don't do wild things while you're young, you'll have nothing to smile about when you're old. Happy 18th Birthday!
My life is amazing because you are part of it. Have a wonderful birthday from your best friend.
This year, may joy fill your heart to the brim, and may goodness pursue you wherever you go. Wishing you a fantastic birthday from this side of the Atlantic. Much love.
Happy birthday to a wonderful friend who makes even the most daunting challenges of life manageable. Thank you for always being there by my side and supporting me even in times when I didn't deserve it. I owe you a lot. Cheers.
Happy birthday to one of the few people whose birthday I can remember without a Facebook reminder.
Sweet Happy Birthday Message for Husband
To your staunchest partner. Your rock. Your pillar. Say happy birthday to your husband with the sweet words and thoughts contained in these happy birthday messages.
Card messages aren't my thing. Happy Birthday…
Happy birthday, darling. In your arms, I am complete.
Wishing you the most important things in life; health, peace, love & happiness. Happy Birthday!
You are as precious to me like the sun is to the earth. There's nothing in this world I wouldn't sacrifice to make you smile.
I always think about you with fond memories of our beautiful childhood years together. Happy birthday to you, my dear. May we make more beautiful and unforgettable memories together. Love you!
Happy birthday hubby, our friendship is eternal and it is so strong that even marriage couldn't break it.
A special birthday wish to the most charming, loving and caring husband in the world, have a long life.
Happy Birthday Message for Wife
The woman who warmly welcomes you at home. The one who keep the soup warm and the desserts sweet. Send her a happy birthday message full of conviction that you've found the best partner in her.
I totally appreciate all the happiness you bring into my life. Having someone like you in my life is more than a blessing to me.
My love for you grows hundredfold every second. My finest wishes, love!
You are beautiful inside and out. You are truly an amazing friend! Happy Birthday Beautiful.
Happy birthday from the one who loves and cares for you the most. May your Big Day be as pleasant as your presence is in my life.
As you get older three things happen. The first is your memory goes, and I can't remember the other two. Happy birthday!
Don't get all weird about getting older! Our age is merely the number of years the world has been enjoying us!
Happy birthday to you my wife. I want to give you the most beautiful gift today, but have no money.
Funny Happy Birthday Messages
A celebration of any kind should be full of fun. Why don't you set the mood of the day by sending these funny birthday messages early in the morning?
Today on your birthday, you have so many reasons to be grateful that you are alive and healthy. I also have a reason, you. Happy Birthday!
Happy 18th Birthday. Don't start taking yourself too seriously. Nobody else is about to.
40, the age you get your head together but your body starts to fall apart.
Happy birthday! May your Facebook wall be filled with messages from people you never talk to.
You're older today than yesterday but younger than tomorrow, happy birthday!
Forget about the past, you can't change it. Don't think about the future, you can't predict it. Never mind the present, I didn't get you one. Happy birthday!
Cheers on your birthday. One step closer to adult underpants.
Happy Birthday Mom Messages
Well, well, well it's your mothers birthday. The one who gave life to you was born today. More reason to celebrate. Start with these happy birthday messages for mom.
Here's a big hug from your favorite child. I wish you a year full of surprises, presents, joys, and laughter. Happy birthday, Mom!
May the best things you have enjoyed so far be nothing compared to the awesome things that await you in future. Have a remarkable birthday.
May you live all the days of your life.
Mom, there is no one who can come even closer to your winning ways. Happy Birthday to my great mom.
Mama, all I want that I could grow up like you in the coming days. I wish you a happy birthday and it's all your guidance for which I have become the person I'm now.
Every morning when I wake up, I always thank you. You are the one who loves me unconditionally. You are always my lovely mom, wishing you a happy birthday.
Every mom is special, but trust me there is no other mom who can be compared to your qualities. On this special day, I want to thank you and wish happy birthday.
Happy Birthday Dad Messages
You were born into this world from two people. Your Mom nurtured your life and Dad was responsible for your germination. Tell him you love his genes that is half of yours with the grateful words of these happy birthday messages.
Happy birthday, Dad. I am so privileged and blessed to have a great man like you as my father.
Nothing compares to having an amazing father like you. I hope your birthday is as incredibly wonderful as you are to your children, Dad.
Keep calm it's only a number, Happy 60th!
Dad, you have always been a good friend to me and I hope we will remain forever. Happy birthday.
Daddy, you never did anything wrong in your life so you deserve all the good things in the world. Have a gorgeous celebration on your special day.
The person who has always guided me, for who I am and loved me the most. Happy Birthday, dad.
You were the one who always told me that I can do the impossible if only I tried hard enough, that alone is the reason I am here, happy birthday dad!
Happy Birthday Message for Girlfriend
You love this girl more than a friend and like family with a raging passion. Tell her you are thankful for the day she was born into this world.
Babe, may your birthday be as sweet as you are to my heart. I love you.
Happy birthday, sweetie! Sending a virtual hug and squeeze to you because I miss you and wish that you were here with me. Have a blast!
Wishing happy birthday to the best person I've ever met in this world.
Thank you for all the memories we have. Without you the world would have been colorless to me.
I know your parents love you the most, but trust me my love is no less than them. Happy Birthday.
Wishing you the most memorable birthday as you are with me my love, your day will be full of surprises.
Since you came into my life, all colors have become clearer. You brought light and colors in my dark life. Happiest birthday my love.
Happy Birthday Message for Boyfriend
Your boyfriend has a different type of sense of humor than your friends. Go on submit to his rough humor by sending him this out of this world birthday greetings.
Happy Freaking Birthday! Live for today, laugh 'till it hurts & celebrates like you've never celebrated!
Happy birthday to my special man! Meeting you was the most wonderful thing that has happened to me in life!
Happy birthday to the most special person in my life! You make my world complete, darling.
Just wanted to be the first one to wish you happy birthday so I can feel superior to your other well-wishers. So, happy birthday!
Happy birthday to the big boy. You are my charming, handsome, tall and intelligent boyfriend. I love you.
For the most handsome boyfriend in the universe, I hope your birthday is all you could ever want. With love and devotion, always, your very happy girlfriend.
The most loving birthday greetings to my steady rock! Thank you for being the man that I can always count on.
Happy Birthday Message to my Love
A gender-neutral happy birthday message you can send to your loved one; a woman or a man or a mix of both…I'm serious, these can be perfect for all of them.
Birthday greetings to the joy and the love of my life! Wishing you the most amazing and unforgettable special day!
My love, every moment with you takes me to paradise. Your love shall forever be the most important thing in my life.
Happy adulthood! Whatever the future holds, enjoy the journey…
Sending you a birthday wish wrapped with all my love. Have a very happy birthday!
Happy Birthday to the most adorable and remarkable human being on this Earth. Love you the most!!
Wishing you a year full of achievements and no regrets. Happy Birthday my dear!!
Here's to the sweetest and loveliest person I know. Happy birthday!
Happy Birthday Message for Daughter
You know almost everything about her, sort of…unless she's a teenager having her first boyfriend. Show her you love her no matter what, with these handpicked happy birthday messages for daughter.
Joy and laughter make the heart merry. I pray that you enjoy lots of joy and laughter today and always as you commemorate the day you came into this world.
Happy 18th birthday! You're an adult now. Now you can do everything legally you've been illegally doing since you were a kid.
Happy birthday to someone who is forever young!
When the little kids ask how old you are at your party, you should go ahead and tell them. While they're distracted trying to count that high, you can steal a bite of their cake! Happy birthday!
May you always remain young and chirpy. Wishing you a very happy birthday.
Your smile spread happiness in home and make it lively. Enjoy your growing, happy birthday my sweet daughter.
Imagination of this home without you scares me, don't know how would I live without u after ur marriage. Happy Birthday sweetheart.
Happy Birthday Message for Son
He's trying to hide his tender side, and facing everyone as toughly as he can. Don't be too obvious you know he's sweet on everyone by sending him these little men's happy birthday messages.
We're all just tall kids but you stand taller than any kid at heart I know. Happy Birthday…
We may not be perfect parents but we are lucky to have a perfect son. Happy birthday son!
It's birthday time again, and wow! You're a whole year older now! So clown around and have some fun to make this birthday your best one. Happy birthday!
It's always a treat to wish happy birthday to someone so sweet.
On your birthday, I thought of giving you the cutest gift in the world. But then I realized that is not possible, because you yourself are the cutest gift in the world.
You are only young once, but you can be immature for a lifetime. Happy birthday!
Have a great birthday dear son, enjoy ur day. You are the most special for me.
Happy Birthday Message to Boss
With respect and enough tenderness these happy birthday messages are worded just right and perfect to send to your boss to wish him a happy birthday.
Thanks for all your advice. I've never regretted following your footsteps. Have a fabulous birthday, boss.
Of all the virtues I admire in you, your determination is number one. I have learnt from you how far determination can take one. Thank you for all your advice and guidance. Happy glorious birthday to you, sir.
You are without a shred of doubt the best boss in the Universe. I feel so privileged and blessed to have gotten the opportunity to work under someone as wonderful as you.
Happy birthday dear boss on the behalf of your entire team. Have a great day.
Hey Boss, happy birthday to you, you are one of the finest person I have ever met.
Receiving praises from juniors is the best words one can hear. On ur birthday this is 4u "UR the best boss"
Take a break from the work boss and enjoy the day with friends and family. Happy Birthday.
Happy Birthday Message for Mother
Our Mother is the one who sees through us all the time. Tell her happy birthday in words that tells her you appreciate her discernment. This had saved you many times.
No one has the ability to gladden my heart and send me to the moon like you do. Mom, happy birthday! Keep illuminating our lives and the world with your incredible love.
Everything important that I've learned, I have learned from you. Happy Birthday!
You are the only one who helped me a lot, guided me a lot and never given up when even I was not confident. Thanks for being all the way with me. Happy birthday.
Happy birthday, Mom! I want you to know that I am nothing without you, but I can be everything with you by my side. Love you!
Only a super mom can do everything you do and still look amazing every day! Happy birthday to a mom who just keeps getting younger at heart.
If you were not my mom already, then I would be absolutely jealous of whoever was your daughter. You're awesome, Mom. Happy Birthday!
Happy birthday to my mom… the woman who sacrificed many a precious moments in her life, so that I could have them in mine.
Happy Birthday Cousin Messages
Send your beloved cousins these beautiful happy birthday cousin messages on their special day.
It is not how old you are. It is how you are old. Happy Birthday…
A wish for you on your birthday, whatever you ask may you receive, whatever you seek may you find, whatever you wish may it be fulfilled on your birthday and always. Happy birthday!
Happy Birthday Niece Messages
To your almost daughter, tell her you love her as your own and you're proud of her accomplishments as much as her parents.
You make tedious academic work appear like a walk in the park. I wish you an excellent birthday celebration. May you always achieve excellence.
Another adventure filled year awaits you. Welcome it by celebrating your birthday with pomp and splendor. Wishing you a very happy and fun-filled birthday!
Birthday Celebration Ideas
The process of making birthday videos for a friend
It may not always be easy to wish Happy Birthday to a friend in a new way. Since many years you might be missing to find unique methods to wish for your friends' happiness on this occasion. Moreover, you may not remember even half of your friends if social platforms like Facebook were not there to remind you.
However, making birthday videos to convey your birthday message to your friend is not very difficult. In fact, it is very easy to create videos for a birthday even if you do not have any technical knowledge in this regard.
But, it is important to make a good video. So, in this write-up, we will be sharing tips and discussing ways to make good and catchy birthday videos. Making a video can be a better way to communicate your birthday message to your friend on this occasion.
Find a Video Making Software
In order to create a video for a birthday, first of all, you need a video making software.
Check reviews and best prices
You can find a number of such software tins online that are affordable as well as easy to use.
Sign up for free
You can sign up with one of these platforms either through your Facebook account or opening an account with them for free.
Try phone apps
You don't have to get fancy ones. With your smartphone, you can do all the recording and video editing. There are tons of free apps you can use! Just check the app store or play store.
Gather Images and Videos
It will be easier for you to follow the next steps after logging on with a software option.
In the next step, you will have to include some birthday pictures and happy birthday message as well as some music suitable for this occasion to make a good birthday video. By using the software you can get a wide variety of birthday videos within a few minutes. So to personalize one of these videos you will have to add a unique message instead of a simple Happy Birthday message.
Think unique
However, it is not enough to know how to create a video for a birthday. You must also incorporate some unique ideas to create a different video for the special occasion for your friend.
Compile!
While creating a video for birthday you can use various types of storytelling ideas like creating slideshow video. In such a video, you can compile your various photos to give a personal touch to your birthday video.
Writing the message
Simply saying Happy Birthday cannot be an attractive happy birthday message for your friend. It is usually written on Facebook to wish strangers happy birthday. So while writing a birthday message with your birthday video you will have to consider the personality of the person to whom you are wishing a happy birthday. You will have to decide whether to send some witty and funny message or sweet message.
Some one-liner happy birthday messages for your friend are listed here for you to choose from.
Sample message
Applause on your birthday: One step nearer to adulthood. Happy Birthday! Can your Facebook wall be packed with people you never talked to? Happy Birthday! Don't agonize, I am here to help you grieve for the demise of your youth. Happy Birthday!
Lots of famous people were born on your birthday. You can be one of them by growing intelligent this year. Happy Birthday, this is the oldest you've ever been so far.
Happy Birthday! Thank god, I got my internet connection back otherwise I would have actually sent you a birthday card. Some charming wishes, if that's what you expect from your friend. Happy Birthday! Happy Birthday! Wish you many candles in the future.
The best things you can do on birthdays
So, by following the tips provided in this write-up you can easily create a video for a birthday for your friend to send him your unique happy birthday message on this special occasion.
The message you write should be appropriate and suits your friend's personality well so he will relish the thought you convey. It can be a funny message or simply a sweet happy birthday message per se, it won't matter. What will matter will be the thought that has inspired that action. Now, what will you do for the upcoming birthdays? Please let us know in the comments below!