"When each day is the same as the next, it's because people fail to recognize the good things that happen in their lives every time the sun rises." – The Alchemist
We should always celebrate mornings, for it heralds the start of a new life. Be thankful for the chance to have wakened, for your day has just started and you don't know what the rest of the day has in store for you.
I don't want to touch on the mysticism of life but each morning I keep on wondering what really is there that is keeping us alive. Questions were on my mind and answers came easily to me. I have found them from my readings for although writers like me are full of questions they are not shy of voicing their probabilities.
I have here a list of good morning love quotes that don't only skim lightly on the subject of life and the wonderful promises of new mornings but sang poetically about them in-depth.
Good Morning Love Quotes Images to Brighten Up Your Day
Shine bright at the start of the day by sending someone an energizing quote to start their day right, after of course applying some to your mood.
Good Morning Love Quotes
I Feel like you are the reward for everything i did right in my life. Good Morning!
Good morning, sunshine!
Smile in the mirror. Do that every morning and you'll start to see a big difference in your life.
If you are thankful and grateful every morning as you woke up, happiness would come out within you.
Good morning! The secret to living is giving.
Good Morning: Your life is now, seize it and make it AMAZING.
Morning is the start of every day and I will live each day like its a new day, renewing our love.
Good Morning! Your future is created by what you do today, not tomorrow.
A sweeter smile, a brighter day, hope everything turns out great for you Today! Good Morning!
Smile is on my face and joy is my heart. True happiness visits me every single morning when I wake up and you are the reason for this.
I hope that your morning is as bright as your handsome smile. Hope that the rest of your day is as sweet as our love.
I"m grateful that I wake up next to you every morning and lay down next to you every night.
The glow you bring to my life is more radiant than a thousand sunrises put together. Good morning.
Here are some hugs and kisses to start out your day. Hopefully, they will last until we meet this evening. Have a good day darling.
Every morning with you leaves me jumping for joy. Instead of the tedious of the mornings before you, life is now filled with love and energy. Enjoy your day!
Good Morning Love Messages for Girlfriend
She's your honey, your sweetheart, your bae; send her a love message to make her morning good. You will love our blog about 101+ Love Quotes for Her that Captures Heart.
A simple 'Good morning beautiful.' makes my entire day awesome. You're busy, but don't forget to let me know you're thinking of me.
Joyful morning, good morning, good day.
Let our love start your day and brighten every step you take. GOOD MORNING, SWEETHEART!
Getting up in the morning is exciting because you are a part of my life. You are the light of my life and the sun in my sky.
There is only one remedy to cold mornings- warm cuddly hugs with you. Good morning beautiful!
Good Morning…start your day with smile and joy in your heart. Be positive that everything will be okay.
Morning would be better if I woke up next to you.
When I wake up and see you lying next to me, I can't help but smile. It will be a good day simply because I started it with you.
You have replaced my nightmares with dreams, my worries with happiness and my fears with love. Good morning.
Every morning my love for you keeps growing. You are my dream come true. Good morning dear.
Just thinking of you brightens my morning.
You are the reason I want to wake up every morning. You are a true blessing, and I wish you a wonderful and sunny day.
This morning I woke up wanting some kisses from you, so I thought I'd send my love to make you smile when you wake.
I could tell you that you complete me, but that would not be the truth, for each morning when I wake I long for you more than before.
Good Morning Love Messages for Boyfriend
The boy who was the last person you were thinking of last night and the first one you'll think of early the next morning. Make his day good send some love messages.
Everything I am is because of you. You are my strength, you are my inspiration. Seeing your face in the morning is what keeps me going.
You have replaced my nightmares with dreams. My worries with happiness and my fears with love. Good Morning.
I am sending you a lot of hugs and kisses in my thoughts. I hope you feel it. Also, I always want to see you in front of my eyes as I open my eyes.
The alarm clock went off and I got up. Before I could think of anything else, you were already knocking at the door to my heart.
Good morning to the guy whose hugs make my days sweeter and kisses make my life brighter.
A smile opens up a heart faster than any key in the world can unlock a door. Open your eyes this cool morning and brighten the world with your handsome smile. Good morning baby!
It doesn't matter if I have a coffee or tea. I will feel the same as long as I know that you are thinking about me. Good morning
Seeing you in the morning is the most beautiful thing I could possibly think of… seeing your lovely smile and beautiful eyes makes me think, that I never loved someone this much as I do you.
It doesn't matter if I have coffee or tea. I will feel the same as long as I know that you are thinking about me. Good morning.
Let this morning be kind, generous and warm for you and let your day be incredible, my love.
Good morning, my dear. The first thing I can think of early in the morning is you. Your beautiful face is my energy for the day. I Love you!
Good Morning my Love Quotes
The love of your life, the one who makes your world bright can use your love quotes about good mornings, to lift his/her spirit at the start of a new day.
Find every good reason to be happy forever. Cheer up! No condition is permanent. Have a wonderful day ahead.
Mornings are a great way to enjoy the world. You see it as it should be- peaceful, quiet and the birds are singing.
Being in love with you makes every morning worth getting up for. GOOD MORNING ANGEL!
Good morning love. You are a blessing from the heavens above.
Beautiful, I need you like I need the coffee in the morning.
Begin this beautiful day with a smile on your face. GOOD MORNING!
Good Morning! Wishing you a day full of smile and happy thoughts!
Good morning, my love! Do you know how wonderful it is for me to wake up in your arms? I look forward to seeing you this evening.
I just want to come over, hug you tight and kiss you good morning.
You are my sun on a gloomy day, like a lighthouse in a stormy sea. Thanks for all your care for me, good morning my love, time to get up.
Being with you makes me feel that I can overcome any obstacle coming in my life. Good Morning my love!!
My love, do you know that my entire night was spent dreaming about you? Now I want to spend my whole day with you. Good morning dear!
When I wake up in the morning, and I see you sleeping, it is the sweetest part of my day to roll in close to you and hug you with all my love.
Your morning coffee will be made perfect, with a teaspoon of my love and a pinch of my hugs.
The birds singing on your window is really my companion who is helping me to express my feelings for you. Good Morning my love!!
Good Morning Love Quotes for Him
Him? And him again, well…you love it. Send good morning greetings via love quotes. Or better yet, check out more beautiful images with love quotes for him at allhappyquotes.com.
The world is full of nice people. If you can't find one, be one!!! Good morning!
Every morning, I wake up saying, I'm still alive, a miracle. And so I keep on pushing.
Like yesterday, make today another wonderful day. Good Morning and have a great day ahead.
You are the reason that I am smiling in the morning.
I get up in the morning looking for an adventure.
I opened two gifts this morning. They were my eyes.
The minute you think of giving up any relation, think of the reason why you held it so long. Good morning and have a nice day!
If you think big, you get big…because you create your life with every thought you think.
I don't need paradise because I found you…I don't need dreams because I already have you. Good Morning!!
Gazing outside the window and thinking about you while I sip my morning coffee is the best part of my day. Good morning handsome.
Every morning I wake up, I realize that you are the best thing that ever happened to me. Have a great day.
Why does the morning have to start so soon? I need more time to dream about the guy who gives me weak knees every single day.
Everything is strange without you here. When the sun rises without you, the light does not shine as brightly. I am incomplete without you by my side.
Good morning to the sweetest guy a girl could ask for. You are the light of my life, and you fill my heart with happiness.
My love, my life, my laughter are all for you. You hold the key to my heart now and forever. Good morning my dear.
Good Morning I Love You Quotes
Being in love you want to be able to say I love you to your loved one every single minute. You can start every morning. If the quotes below run out, we've got you covered with our 91+ Best I Love You Quotes that Supercharges Loving Relationship Fast!
A simple good morning, have a great day, or I love you, goes a long way.
I don't care whether the sun rises or not, my morning starts only after I say that I love you a lot. Good Morning.
Many girls dream to be with a guy as sweet and handsome as you. But I am the luckiest of them all. I love you dear, good morning!
Wishing a good morning to the person who is the reason why I feel like waking up everyday. I love you.
Good morning, my sunshine. It gives me great pleasure to call you my man. Thank you for being the most phenomenal person in the universe. I love you so much.
When you came into my life, brought with you all the love that someone could ever give me. Have a nice day, my love.
I long for the day when I can open my eyes each morning and immediately see you next to me. I will always be here for you.
Good Morning handsome..you have spoiled me with your care and love…I want to wake up with you always..love you.
The radiant colors of the sun are not as dreamy as the hugs and kisses you gave me. You are my best dream ever that came true. Good Morning dear..love you.
Ahhh…to see those eyes and that smile every morning is a true blessing, I love seeing you, I love that morning look you give me, I always feel warm inside, thanks to you!
Thank you, handsome for making me feel the most blessed woman in this world. Love you!!
You add light to my life, take away my nightmares, and make me smile. Good morning handsome; I love you deeply.
Good Morning Quotes for Friends
Some friends may be in the right mood to receive warm good morning via different quotes that talk about the natural beauty of new mornings. If you want to impress or annoy your friends with daily quotes, you can find more best friend quotes with images here.
This day started with a beautiful morning, and I want to share this beauty with you, mate.
Being your friend is such a blessing. Good morning and have a nice day, fella!
My mornings don't feel complete without your texts. Hope you'll have a nice day and an amazing evening. Rise and shine!
Be thankful for every good thing that surrounds you. Most especially, thank God for the wonderful friendship we both share. Good morning friend!
You gave me a feeling of refreshment, take me away from the boring sleepy times and fill me with the joy of the time ahead of us. Good morning friend!
Nothing helps me cheer up and refresh myself in the morning: except for your dazzling smile and kind sparkling eyes. I really appreciate it. Good morning, dear!
It's time to wake up and fight for you place in the sun, buddy! Good morning to you.
It's time to wake up and shine as bright as you can. And I believe you can. Good morning!
Every time I text or call you in the morning my spirits rise. That's why I like to start the morning with you, pal. Good morning!
It is time to say goodbye to the shining stars and greet the morning sun. Smile for me beautiful and enjoy your day.
Did you feel extra warm this morning? That's because I sent you hugs from my dreams. Good morning!
Wake up lazy bones! It's time to embrace a new day. Welcome success and happiness. Have a great morning.
Good Morning Quotes For Best Friends
I'm pretty sure your day will be full of laughter and happiness because you start it with a text from your best friend – me. Top of the morning to you!
Each new day brings me a wonderful opportunity to make you a little bit happier than you were yesterday. That is what the best friends do. Good morning and have a nice day!
Never let life's worries put you down, remember that I am and will always be your awesome and faithful friend. Good morning pal!
Wake up, open your eyes and sip a cup of loving friendship, eat the piece of your heart out from a plate of trust. To crown it all, a fork full of love and kindness. Good morning friend.
Whether it is a headache, sickness, or hangover, the worst of mornings becomes cute and happy when I think of a wonderful friend like you. Good morning friend!
When I see you in the morning, I think to myself "what have I done to deserve something this beautiful" then I wake up, make morning coffee, and not for a second do I stop thinking about you.
Happiness is a wonderful gift for those who think good thoughts every morning. So open your eyes, wake up and welcome today with love and sweet smile. Good morning!
Good morning! Today will be the day full of opportunities and achievements, so I hope you've slept well because you will need a lot of strength and energy to make it to the end of the day. Love you!
As the breeze from the morning air touches your face, always have it in mind that someone far away is thinking of you and wishing you a great day ahead. Good morning!
Good Morning Inspirational Love Quotes
If you find this list too short, you are going to love a special article we wrote about Inspirational Love Quotes.
The morning is just like painting, all you need is an inspiration to start, a smile to brighten it and a message from someone who thinks about you.
I'm so happy to have a friend like you, because I don't have to come up with inspirational good morning texts: you just don't need ones.
Today will be a great day. So wake up and smile.
Set a goal that makes you want to jump out of bed in the morning.
Good morning is not just a word. It's an action and a belief to live the entire day well.
Opportunities are like sunrises. If you wait too long, you miss them.
You wil never have this day again so make it count!
Smile in the mirror. Do that every morning and you'll start to see a big difference in your life.
This morning will never ever come back in your life again. Get up and make the most of it.
A morning is a wonderful blessing. It stands for hope, giving us another start of what we call life.
You'll never change your life until you change something you do daily.
No matter how good or bad your life is, wake up each morning and be thankful that you still have one.
A year from now, you may wish you had started today.
Each morning we are born again. What we do today is what matters most.
This is not just another day, this is yet another chance to make your dreams come true.
When you arise in the morning, think of what a precious privilege it is to be alive, to breathe, to think, to enjoy, to love.
You have to get up every morning and tell yourself Ï can do this.
Mornings with Love
Having a cheerful and positive outlook during the day starts in the morning. Besides, you don't want to look moody in the morning and that's why you'll love this article. Get to know and practice the best morning ideas for the happiest couples. Whether you've just gotten married or been in it for decades, there's always something new to try. You may find new ideas from good morning love quotes.
New couples may face challenges synchronizing their habits. Because let's face it, here are two individuals coming from two different family routines – sometimes different cultures.
Therefore, mutual cooperation in developing and adopting your common morning rituals is very important. Read good morning love quotes below for inspiration.
Best Morning Habits for Super-happy Couples
This article gives you ideas to spice up your morning and make your marriage life everlasting. Make them fun and part of your married life. If you continuously practice them every single day, it will develop into a family culture. What's more, happiness will be your portion.
Synchronize Your Wake up Time
As much as possible, wake up at the same time. You can take a few minutes in bed to touch and cuddle your lover. As you tune yourselves to get out of bed, share inspirational good morning love quotes.
Sing Together
Wake up a little earlier and spend about five minutes on an uplifting song. You may not have been in the choir back in the days but you have a voice. Sing it out loud. Singing can boost your happiness a great deal in the morning. Even if it's cold in the morning, singing will bring in some warmth.
Pray Before Getting out of Bed
After the hymn, the next best thing to do in the morning is to pray. You're stepping out to the world each morning and God is your guide. That's you've to put him into your plans. Most importantly, pray for your family to remain steadfast in love and to overcome daily challenges.
Take a Shower Together
Kickstart your day by taking a bath together. It's fun, romantic, and brings intimate feelings that will energize you throughout the day. This habit will also save you something in the long run. You'll get a small relief on water and energy bills for the water heater. This is what we all want; saving money even if only a few bucks.
Help Each Other With the Chores
Having one partner do everything in the morning wears them out and will drain away your love pot. Sharing some responsibilities will make your spouse happy and feel in love. You should always make an effort to lend a helping hand. It can be by preparing breakfast or getting the kids ready for school.
Have Breakfast Together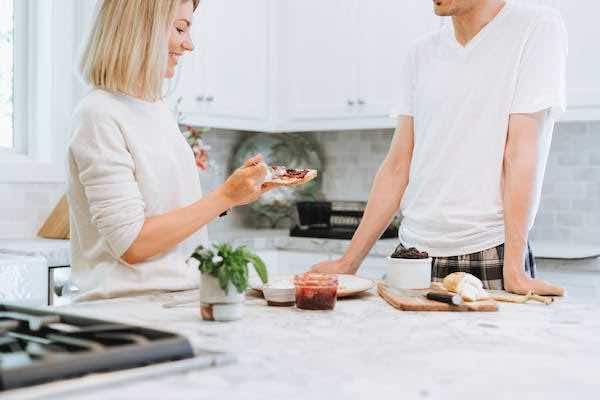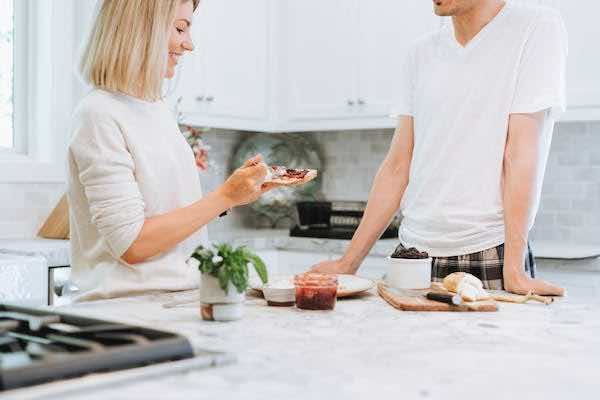 Love coffee or tea in the morning? You'll enjoy it more when you take breakfast with your better half and even kids, if around. The beauty of it all is the opportunity to share a meal with happiness as a day's opener.
Share Your Day's Schedule
Knowing each other perfectly well is the key to a successful marriage. Go over your day's plan of activities. If it's something your partner can help, who knows, he/ she may get some minutes off to chip in. The idea is to share your plans and make arrangements if you're having a coffee date in the evening.
Compliment Your Spouse
Sometimes, the mirror isn't necessary when you're both around. Check if your partner has dressed well and everything is fine. Tell them how they look and what that look makes you feel. This will translate to confidence to face the day boldly. Your compliment will boost their self-esteem which results in positive energy.
Say Goodbye with a Sweet Kiss
Finally, kiss your spouse. You normally do this, right? Well, here is the real deal. Leave alone calling a peck on the cheek a kiss. Count one to twenty in your mind as you kiss each other deeply. It's impossible to count when your heart is racing, ain't it?
The point is: take your time to ignite your love's passion with a sweet kiss. This will keep you longing to meet your partner in the evening. Share with your spouse some good morning love quotes to inspire them.
In addition, always ensure to keep your smartphones away each morning. They're not so smart, are they? Otherwise, they just interrupt your program without giving a damn. From the items above, how many have you been faithfully pursuing? It's never too late to adopt new ways of embracing each morning with your partner.
Finally, don't forget to tell them some good morning love quotes. You never know, it could be the best thing they will hear that day.
Morning Notes Ideas
Happy wishes for good mornings
A new day has dawned and with it all life's treasures and regrets. You can leave the regrets behind but don't ever stop looking forward to what tomorrow has in store for you. These good morning love quotes will adequately inspire anyone to eagerly anticipate the coming of a new day.
For although tomorrow is not guaranteed, it is promised that with the dawning of a new day a new hope and a new life will be born. Share your best good mornings quotes from this list and confer hope for a new and better life.
Also, I would love to hear what is your favorite good morning quote to wake up to so please let us know in the comments below!